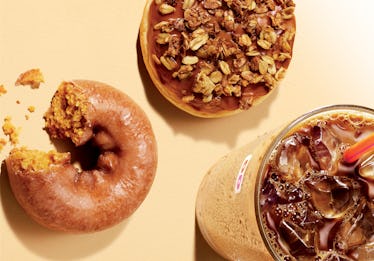 Dunkin's Pumpkin Donut Is Coming Sooner Than Ever, In Case You're Craving It
Let's be real: There's nothing better than starting a chilly autumn morning with a warm cup of coffee and a pumpkin-flavored doughnut. In fact, I'm ready to trade my rosé glass in for a steaming autumn latte, and I'm not even ashamed. Thankfully, Dunkin' Donuts is making my transition from summer to fall a little bit smoother, because the company is releasing its fall-flavored menu items sooner than ever. I don't know about you, but I'm mostly excited for Dunkin's Pumpkin Donut. If you agree, you're probably wondering exactly when Dunkin' Donuts' Pumpkin Donut is coming out. Get your order ready, because it'll be available before you know it.
Dunkin' announced the return of its fall menu items on Wednesday, Aug. 15. The festive list introduces both new and old options, including the Pumpkin Donut. As you probably know, Dunkin's Pumpkin Donut is a returning menu item, and it's making its comeback in August 2018. More specifically, the treat will be available in Dunkin' Donuts stores nationwide by Aug. 27, the latest.
So, what does that mean? Well, I think it means you'll have to visit Dunkin' every day until Aug. 27 to see if the beloved Pumpkin Donut is back on the shelves. When it is, take a few home (and grab a pumpkin-flavored coffee for the road).
In case you're new to the "Pumpkin' Donut" craze (see what I did there?), let me fill you in. Dunkin's Pumpkin Donut is a glazed pumpkin cake that's shaped as, well, a doughnut. The autumn snack can also come as Munchkins (aka doughnut holes), so you can grab a box and bring them home to your friends and family. I mean, who doesn't want to spread the pumpkin love?
If you're not in a doughnut mood, you can always opt for Dunkin's Pumpkin Muffin. The pumpkin spice-flavored treat is topped with streusel crumbs and white icing, so it's sure to give your morning a sweet boost. Plus, it'd probably taste amazing washed down with Dunkin's Maple Pecan coffee, don't you think?
All three pumpkin-flavored varieties (the doughnut, Munchkins, and muffin) will be available before Aug. 27 along with the rest of Dunkin's fall menu. In addition to these options, the company is releasing a ton of other fall-inspired treats that you don't want to miss out on. They include the new Maple Cream Cheese Spread and Apple Crisp Donut, the Belgian Waffle Breakfast Sandwich, the Festive Fall Donut, Pumpkin-flavored K-Cups, Pumpkin coffee, and Maple Pecan coffee.
If those options don't get you in the mood for autumn, I don't know what will.
While you're waiting for the pumpkin-flavored goodies to hit the menu at your local Dunkin', try something new from the company's Dunkin' Run menu. It features a ton of $2 snacks that include Donut Fries, Pretzel Bites & Mustard, Ham & Cheese Roll-ups, and more. Sure, they aren't pumpkin-flavored, but they'll hold you over until you're able to indulge in delicious autumn flavors.
You have until Aug. 27 (the latest) to wait for the fall treats — so stay patient and enjoy the rest of the summer before spooky season arrives.