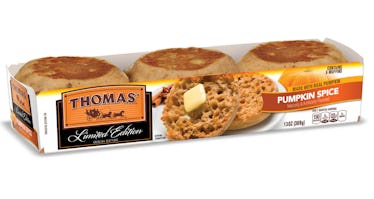 Thomas' Pumpkin Spice English Muffins Will Satisfy Your Fall Food Cravings
Thomas' Breads
It's just a little over four weeks until the official start of the fall season, and already I'm dreaming of all things pumpkin. This time of year brings the intoxicating smell of cinnamon brooms, the warm and cozy tastes of hot apple cider, cooler weather, and crunchy leaves, as well as some of the most delicious pumpkin spice-flavored foods. Your breakfast game is about to get a makeover, because Thomas' Pumpkin Spice English Muffins are back for a limited time this fall.
There's nothing quite as delicious as a toasted Thomas' English Muffin. When I found out that Thomas' is bringing back their beloved Pumpkin Spice English Muffin for another year, I was elated. Set your clocks, because the pumpkin spice-inspired muffins will be available for purchase at grocery retailers nationwide starting on Monday, Sept. 10. That's not all the bakery is bringing back for the fall season. There's more: Thomas' Pumpkin Spice Bagels will also be making a return on Monday, Sept. 10. The breakfast foods are here for a limited time, so you might as well grab a bag of each. The pumpkin spice goodies will be available for the next several months and into the winter season, according to Thomas' Breads.
I can't wait for the temperature to drop and to pop a Thomas' Pumpkin Spice English Muffin in the toaster. Thomas' English Muffins are known for their dense yet fluffy texture (I prefer mine to be lightly toasted to give it that perfect feel, so the bread offers a bit of crunch as I sink my teeth into the soft inside). Personally, I like to put a small pat of butter sprinkled with a little cinnamon sugar on my Pumpkin Spice English Muffin.
Thomas' Pumpkin Spice English Muffins and Pumpkin Spice Bagels include natural and artificial flavors, and made with real pumpkin, spices, and cinnamon, per the brand. The Pumpkin Spice itself tastes like a combination of cinnamon, ginger, nutmeg and allspice flavorings. The autumn-inspired snacks do not contain any high fructose corn syrup.
Not only are they delicious (and best enjoyed on a crisp fall morning), but Thomas' Pumpkin Spice English Muffins are easy on the wallet, too. A six-pack of will cost you $4.49. A six-pack of Thomas' Pumpkin Spice Bagels is slightly more expensive at $4.79 per bag. Oh, and did I mention you can cook with your Pumpkin Spice English Muffins? Right on the Thomas' website is a recipe for Pumpkin Spice English Muffin Sticky Buns. It only requires seven ingredients (including the muffins) and about 30 minutes of your time. Or this recipe for Pumpkin Vanilla English Muffin French Toast. You may need to consider hosting a pumpkin spice brunch at your place and invite all of your friends (and me).
If you're not sure where to find Thomas' baked goods, check to find a store near you. Just remember that Thomas' Pumpkin Spice English Muffins and Pumpkin Spice Bagels will be released on Monday, Sept. 10 and are only available for a limited time. Maybe pick up a Pumpkin Spice Latte from Starbucks on your way to the store to really get yourself in the fall spirit.