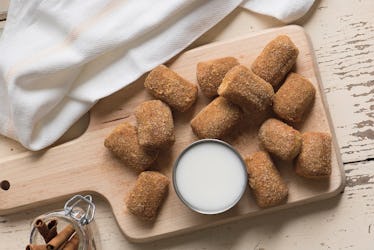 This Pumpkin Spice Treat From Auntie Anne's Will Make Your Fall Basic AF
Basic Beckys rejoice, because the season of pumpkin spice everything is almost here. Although I'm in no rush to say goodbye to summer, sweater weather does have some pretty tasty advantages. More specifically, tasty sips and bites are getting the pumpkin spice treatment just in time for fall. Prepare for the ultimate PSL pairing, because Auntie Anne's Pumpkin Spice Pretzel Nuggets will return for fall 2018. And they're coming so soon, you guys!
Every year, the pretzel gods hearken in September with these spiced bad boys. Thankfully, 2018 is no different. Auntie Anne's Pumpkin Spice Pretzel Nuggets will land in stores as early as Sept. 3, according to Delish. That means you have just weeks to go until you're living out your best, most basic, life. If you've yet to try the seasonal nuggs, here's what to expect. They're warm, doughy bites that have been fried to a crisp and tossed in an addictive mixture of cinnamon, nutmeg, ginger, and magic. OK, I added that last one, but I'm pretty sure that's the only explanation for how crazy people get when pumpkin spice is involved. In one word, these bites are completely mouthwatering, and they'll definitely give a festive spin to your day at the mall.
While I'll always be team pretzel nugget — especially when there's pumpkin spice involved — the dipping options are this close to upstaging the bite-sized snacks. Customers can choose between a sweet glaze or a cream cheese dip, and honestly, it's good that they're sold separately or you'd be in the biggest sugar coma come lunchtime. Either option sounds totally delicious, but I'm salivating over that cream cheese dip. I mean, what better way to balance out all that sweet pumpkin spice flavor than with some tangy sauce?
The one caveat about this whole situation is that Auntie Anne's Pumpkin Spice Pretzel Nuggets are only available until Oct. 8 this year, which is a lot earlier than usual, according to Delish. Why you gotta do me like this, Auntie Anne's?
According to Bustle, they were available through mid-November in 2017, and I'm still scratching my head over the retailer's decision to make that period so much shorter this year. Even so, you can still count yourself lucky to get in early on the Pumpkin Spice Pretzel Nugget action, because they weren't even available until Sept. 11 in 2017, per an Auntie Anne's press release.
That doesn't mean that you have to curb your pumpkin spice consumption this fall, though. The internet is speculating that Starbucks could be announcing the unofficial start to autumn with the return of their PSLs as early as Aug. 28. Who needs patio season when you've got cozy fires, changing leaves, and steaming beverages full of spiced heaven that you've got to attend to?
In addition, Kellogg's Pumpkin Spice Frosted Flakes are also coming in September to make your mornings so much better. Instagram blogger Junk Food Mom, who began the post by describing herself as "anti-Becky," says she was completely blown away by the creation when she tried it. "Same sweet delicious Frosted Flakes with a touch of pumpkin spice that's not overbearing but there in every spoonful," she wrote in her rave review. Um, so much yes.
The point is, with so many pumpkin spiced goodies to choose from this fall, I wouldn't worry about any withdrawals come October.