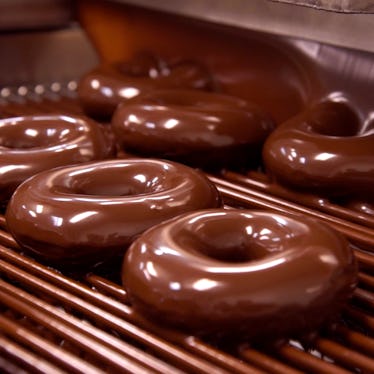 Mark Your Calendar For The Limited Return Of Krispy Kreme's Chocolate Glazed Doughnut
KRISPY KREME
Back in July, people had ~ feelings ~ when Krispy Kreme graced their taste buds with a chocolate-covered version of its OG doughnut for just 24 hours. Now, it sounds like the doughnut gods are finally answering everyone's prayers for the flavor's return, and my body is so ready for the Sept. 7 homecoming. Mark your calendar now, because Krispy Kreme's Chocolate Glazed Doughnuts are coming back for a limited time, and you're not going to want to sleep on this updated confection.
Despite Krispy Kreme's pretty impressive lineup of fried bad boys featuring all sorts of cool flavors and fillings, I've always been a staunch fan of the chain's melt-in-your-mouth Original Glazed. I'm not quite sure what takes the retailer's classic doughnut from good to delicious, but the sweet drizzle is heaven on a doughnut, and nine times out of 10, I'll order an Original Glazed if I see the "Hot" sign signaling that warm doughnuts are currently being covered in a waterfall of original icing.
However, that all shifted when I tried the dreamy chocolate-covered version on July 7, aka National Chocolate Day, and my mind was officially blown. Boasting the simplicity of the classic treat, the Chocolate Glazed Doughnut simply upgraded the OG glaze by adding a rich chocolate flavor that suddenly made me need, not want, a dozen of the fried goodies in my life. And now, you can get them at participating U.S. Krispy Kreme locations on the first Friday of every month, per a press release.
The glorious "first Fridays" filled with Chocolate Glazed Doughnuts will start in September on Friday, Sept. 7, according to a press release.
"We heard our fans loud and clear and they told us they want more Chocolate Glazed Doughnut days," Alison Holder, head of US Marketing for Krispy Kreme Doughnuts, said in the press statement.
From the sounds of it, the Chocolate Glazed Doughnuts will be getting a waterfall glaze machine of their own, which means you can now get piping hot chocolate doughnuts that are sure to take your Friday morning meetings to the next level.
Holder said in the release, "Guests will be able to experience the glaze waterfall taken over by chocolate while the doughnuts are being made. They will be able to smell the sweet chocolatey aroma through the shop and get a taste of the mouth-watering Chocolate Glazed Doughnut for themselves." TBH, I'm drooling already.
Because the phrase "TGIF" just doesn't cut it in this situation, Krispy Kreme is also penning a new phrase for that extra "Fri-Yay" feeling that you'll be experiencing when you've got one of these chocolate doughnuts in hand: TGIC, or "Thank Goodness It's Chocolate."
Unfortunately, while you can head to a participating shop in the United States on the first Friday of every month to get your chocolate fix served piping hot in doughnut form, the chocolate-drizzled varieties might not be available all day. I was a little bummed to see that they're only available "while supplies last," so that means you should probably get to your local Krispy Kreme bright and early on the first Friday of the month. You know I'll be stocking up come Friday and living my best TGIC life.