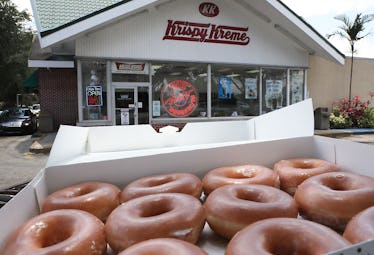 You'll Have To Act Fast To Get Krispy Kreme's Chocolate Glaze Doughnut, So Get Ready
Joe Raedle/Getty Images News/Getty Images
Krispy Kreme has been killing it in the doughnut game lately. Not only does the popular pastry chain make the best glazed doughnuts that have ever come into existence, they've been rolling out some insanely delicious and original flavors over the past couple of months. And for one day only in July, Krispy Kreme's Chocolate Glaze Doughnut will hit stores worldwide — so mark your calendars now so that you don't miss getting your hands on the treat.
Krispy Kreme's original glaze that they drizzle on their doughnuts is already a little slice of heaven, but they're upping the ante by creating a chocolate flavor of their world-famous recipe, according to a press release. The Krispy Kreme Chocolate Glazed Doughnut will be sold in stores across six continents for a very special occasion — World Chocolate Day, which takes place on Saturday, July 7. This is one doughnut flavor that I definitely don't don't want to miss out on, so please excuse me while I go set myself a reminder on my phone.
This is the first time that the doughnuts will be available worldwide as a part of the company's "Glaze the Globe" campaign for the Chocolate Glazed Doughnut international roll-out. I honestly can't think of a better day than World Chocolate Day to share this marvelous creation with the rest of the world.
Krispy Kreme even enlisted NBA Superstar Shaquille O'Neal to help get everyone hyped for the big Chocolate Glazed Doughnut roll-out day. In a promotional video says that he's learned how to say "chocolate" in 327 different languages. Impressive.
The doughnut will be available for all 24 hours of World Chocolate Day, because no matter what time it will be on July 7, there will be a Krispy Kreme open somewhere in the world that's selling a Chocolate Glazed Doughnut. The worldwide celebration will kick off in Auckland, New Zealand at their local Krispy Kreme location, where there will be a midnight celebration that'll start off the World Chocolate Day global event. Celebrations conclude practically two days and 29 countries later at the Krispy Kreme in Kahului, Hawaii.
The first time the world experienced the Krispy Kreme Chocolate Glaze Doughnut was last summer, and they were only available in the United States. The company rolled out the new flavor for one week only from August 19 through 21 in 2017, in honor of the total solar eclipse. As you may or may not know, a total solar eclipse is the phenomenon of the moon directly aligning itself in front of the sun, creating a magnificent formation that looks like a dark orb that's illuminated in the sky. When I first saw Krispy Kreme's Chocolate Glazed Doughnuts, they too looked like they were illuminated by the sun's rays, just like the moon was during that total solar eclipse.
"Creating an awesome chocolate glaze experience that brings together chocolate and doughnut fans around the world is something that is really special for us," said Krispy Kreme's Chief Marketing Officer Jackie Woodward in the press release. "The joyful reaction and demand for the Chocolate Glaze Doughnut during last year's total solar eclipse proved that we had to share this experience again, this time on a global scale."
I remember eating one (or three) of these doughnuts during 2017's total solar eclipse and absolutely loving the new flavor. As a massive chocolate lover, this Krispy Kreme creation was like a dream come true for me. So I will 100 percent be returning to Krispy Kreme in a couple of weeks to celebrate World Chocolate Day in the most perfect way imaginable: by getting my hands on a Chocolate Glaze Doughnut once again.