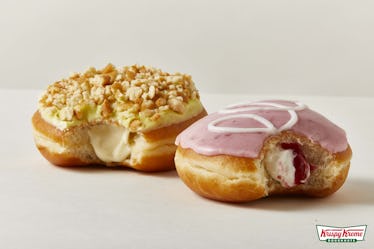 Krispy Kreme Released 2 New Doughnuts For Summer & You'll Want To Try Them ASAP
Krispy Kreme
Some people reach for ice pops in the summertime, but I reach for doughnuts. There's nothing like a sweet pastry to go with your morning cup of iced coffee, and Krispy Kreme knows it. In fact, on Wednesday, June 20, the company released two new doughnuts just in time for the warm months ahead. They're fruity, creamy, and perfect for anyone trying to start their morning on a sweet note. That's right: Krispy Kreme's Strawberries & Kreme and Banana Pudding doughnuts are here, and you'll crave them when you wake up.
Krispy Kreme shared additional information about the doughnuts on their Instagram page on Thursday, June 21, and fans immediately flocked to the comment section asking when they could start buying them. Luckily, the doughnuts hit the shelves on June 18, and they will be available until July 22. This means you officially have one month to try these flavors, so don't wait around. Instead of grabbing ice cream when the temperature rises, stop by Krispy Kreme for a taste of Strawberries & Kreme or Banana Pudding. Needless to say, these flavors would be perfect for a picnic in the park, an afternoon at the beach, or a lazy afternoon by the pool... don't you think?
So, what's inside these dessert-like doughnuts? According to Krispy Kreme's website, each one boasts sweet flavors. The description for Strawberries & Kreme says the treat is "bursting" with strawberry filling and the company's signature Kreme filling. As you can see, it's covered in pink strawberry icing with an additional white swirl on top. If you grew up snacking on strawberries-and-cream everything, then this doughnut is the one for you.
If you're more of a banana person (like me), then you should go for the Banana Pudding doughnut. This one is filled to the brim with a combination of banana custard blended with the company's Kreme filling, and is dipped in icing. To top it off, crumbled Nilla wafers are placed atop the icing, resulting in the perfect doughnut. As someone who grew up eating Nilla wafters by the box, this is definitely my choice out of the two new flavors (even though they both sound delicious).
As I mentioned before, these doughnuts are only available for a limited time (until July 22), so get them while you can. Whether you choose to try one with your morning coffee or bring a 12-pack to the park for you and your friends to enjoy, you probably won't regret it.
Since these doughnuts are only available for a limited time, I'm excited to see which flavors come next. However, before Krispy Kreme announced their Strawberries & Kreme and Banana Pudding doughnuts, the company released Blueberry Glaze doughnuts. The release of the berry-flavored pastry came after the company's #VoteForGlaze campaign in January 2018. Even though it didn't win the contest (lemon-flavored glaze did), the company noticed how popular the blueberry flavor was. Therefore, they brought it to shelves for a limited time in May.
Brittany Dubin, the culinary innovation lead at Krispy Kreme Doughnuts, talked about the flavor's comeback in a press release. She said,
When we looked at how America voted, other flavors received a lot of support and Blueberry stood out as a unique and exciting culinary challenge that inspired my team – so, we went straight to work to tackle the classic flavor experience of blueberry in a way that only Krispy Kreme can: our glaze.
Well, it looks like people got what they wanted after casting their votes for blueberry-flavored doughnuts. Right now, I'm hoping Krispy Kreme fans like the Strawberries & Kreme and Banana Pudding doughnuts enough for them to make their own comeback after the summer ends. A girl can dream, right?