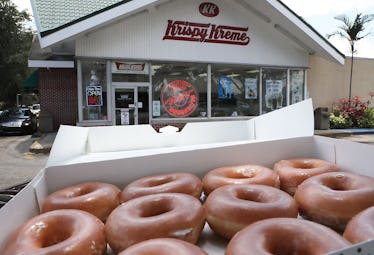 You Can Nab A Dozen Krispy Kreme Doughnuts For $1, But You'll Have To Act Fast
Joe Raedle/Getty Images News/Getty Images
Attention doughnut lovers everywhere: your favorite chain of doughnut producers is fulfilling your wildest dreams: This Krispy Kreme deal will give you 12 doughnuts for $1. You heard me correctly, just one dollar. That's 100 pennies, 20 nickels, ten dimes, or four quarters, for a whopping 12-count of these circular treats. A delightful dozen, if you will. But if you want to take advantage of this incredible offer, you'll have to act fast, because this deal is only available for a very limited time.
This offer is available for you to take advantage of for two days only, June 12 and 13. According to Hip2Save, Krispy Kreme will sell you a dozen of their classic glazed doughnuts for $1 with the purchase of an dozen doughnuts — if you're a Krispy Kreme Rewards Member. So if you read the deal and thought that there must be a catch, you were (kinda) right. Otherwise I feel like they'd run out of doughnuts mere minutes after opening their doors in the morning.
That being said, I still think that this is a seriously amazing deal. A dozen of their original glazed doughnuts sells for around $7.99, which is already pretty cheap. So the fact that you can double that doughnut count for just one dollar is pretty awesome, if you ask me. Even better? The deal is per-person, so if a full 24 doughnuts still won't sate you, just bring a buddy (who's also a rewards member) and set yourself up for 48 doughnuts. If you're a teacher celebrating the end of school, or if you want to treat your office to a sweet treat that coworkers can enjoy with their morning coffee, this Krispy Kreme deal is definitely the perfect way to do it.
But since it's only for rewards members, what's a doughnut-lover to do? Thankfully, signing up is easy, according to Simplemost. All you have to do to become a rewards member is download the Krispy Kreme app to your phone, sign up, and then show the barcode on your phone to get those sweet, sweet doughnuts.
And it's probably worth it, because Krispy Kreme has offered a bunch of amazing doughnut specials in the past. Just last month in May a limited edition Blueberry Glazed Doughnut was available for just about two short weeks, and in April the special Nutter Butter Cookie Twist Doughnut and Chips Ahoy! Doughnuts were added to their menu for a short period of time as well. And guess what — I missed all of these specials.
But the biggest doughnut special that I slept on was National Doughnut Day, and I'm still upset about it. The unofficial holiday was on June 1 and a ton of popular doughnut retailers (including Krispy Kreme) were giving out the treats for free. I can't believe I missed getting my hands on one, but this latest offer from Krispy Kreme is giving me the chance to make up for my loss. The first official National Doughnut Day took place in 1938 to honor the so-called "donut lassies" that provided the treats to the nation's troops, but in 2018, what better way to honor them than by housing some delicious pastries?
I'll consider Krispy Kreme my own modern-day "donut lassie" from now on. It provides me with doughnuts when I need them most, and they never fail to put a smile on my face — which counts, right? When I missed the official doughnut holiday, the one time of year that I can get one of these treats free of charge, I was crushed. But now that I have a chance to redeem myself with this new Krispy Kreme deal, I feel a little bit better about my forgetful self.