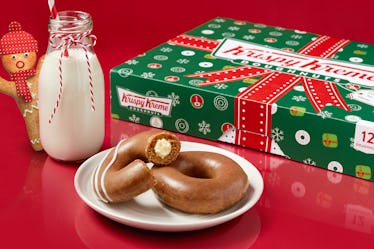 Krispy Kreme's Gingerbread Doughnuts Are BACK, But They Won't Be Around For Long
Courtesy of Krispy Kreme
To sweeten up your holiday countdown, Krispy Kreme is bringing back a familiar fan-favorite treat to celebrate. Get ready for an iconic holiday flavor full of sugar and spice and everything nice, because Gingerbread Doughnuts are back. Sadly, like all the seasonal offerings at Krispy Kreme, you'll need to scoop up the limited-edition treats before they're gone. Take note of how long Krispy Kreme's Gingerbread Doughnuts will be available in 2020, so you don't get hit with any FOMO.
On Wednesday, Dec. 16, Krispy Kreme announced the return of two spiced up doughnuts: the Gingerbread Glazed Doughnut and the Gingerbread Glazed Original Filled Cheesecake Doughnut. For a quick refresher on how the classic Gingerbread Glazed Doughnut, which first launched in 2017, it's a festive blend of spiced gingerbread dough with a hint of cinnamon, finished off with a gingerbread molasses glaze. The Gingerbread Glazed Original Filled Cheesecake Doughnut debuted in 2019, and it's the same spiced-up glazed doughnut as the OG, but it's filled with a cheesecake Kreme.
Both returning gingerbread confections will only be around for about two weeks, and they'll leave the menu on Thursday, Dec. 24, along with the company's other holiday items. ICYMI, Krispy Kreme is selling three holiday-themed doughnuts all filled with different flavors, like red velvet and sugar cookie.
Pricing for Krispy Kreme's holiday doughnuts will vary by location, but specialty dozens and solo specialty doughnuts are around $12 or over $1, respectively. And remember, they'll be gone by Christmas Day, so snag yours before then.
When you head out to get Krispy Kreme's Gingerbread Doughnuts, make sure to check Krispy Kreme's coronavirus safety policy, as well as follow coronavirus safety recommendations from the Centers for Disease Control and Prevention (CDC) as of Sept. 11. The CDC suggests ordering using a pay ahead method such as delivery or pick-up where possible. If you head into the store, wear a mask, practice social distancing as much as possible, and wash your hands after leaving the store and handling any packaging.
If you think you're showing symptoms of coronavirus, which include fever, shortness of breath, and cough, call your doctor before going to get tested. If you're anxious about the virus's spread in your community, visit the CDC for up-to-date information and resources, or seek out mental health support. You can find all Elite Daily's coverage of coronavirus here.