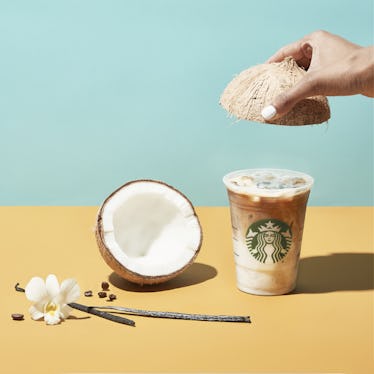 Starbucks' New Iced Vanilla Bean Coconutmilk Latte Will Last Longer Than The Summer
STARBUCKS
Summer is an ephemeral season, but it's oh-so sweet while it's here. Most things — a romantic fling, patio weather, or a limited-edition Starbucks frappuccino — come to an end by the time fall comes around, but luckily, that's not the case with Starbucks' newest caffeinated sips. Starbucks' latest drinks are officially here to keep your energy levels up all year long, which is great news for everyone wondering how long Starbucks' Iced Vanilla Bean Coconutmilk Latte is available. It's not going anywhere, and it's going to bring of bit of summer to you year-round.
On Tuesday, July 10, the coffee gods at Starbucks rolled out two more caffeinated offerings to help us stay cool in the months ahead, and they sound completely delicious. So delicious, in fact, that I was already dreading the idea that they might be gone when the temperatures drop. Well, according to Starbucks, the new Iced Vanilla Bean Coconutmilk Latte and the Salted Cream Cold Foam Cold Brew were added to the permanent menu. They are here to stay for the foreseeable future, so you can enjoy these tasty sips while sitting pretty with the knowledge that they aren't dipping out when the seasons turn.
Starbucks' Iced Vanilla Bean Coconutmilk Latte immediately caught my eye because of its espresso and coconut milk pairing. Anyone who knows me knows that an iced latte is my go-to summer refreshment. It's the perfect way to enjoy the energy-boosting powers of espresso (they're so real, y'all) in an icy concoction that cools you down without being overwhelmingly sweet. It's a warm weather blessing, TBH.
If dairy is an issue for you, you can now enjoy the smooth and satisfying flavor of a traditional iced latte with just a hint of vanilla bean. According to press materials, Starbucks' Iced Vanilla Bean Coconutmilk Latte is also a healthier option than a regular iced latte, as the refreshment is free from any syrups. Win-win.
While Starbucks' summertime offerings usually resemble dessert in a cup, their newest offerings seem to focus more on the coffee flavor with the subtlest additives. Take the new Salted Cream Cold Foam Cold Brew, for example. The new concoction offers just a hint of salty sweetness with a splash of caramel and a salted-cream Cold Foam topping, according to Starbucks. As if this didn't already sound completely delicious, you'll also feel great about choosing this drink over your normal order. The Salted Cream Cold Foam Cold Brew is being served with Starbucks' new strawless lid, so you can be one of the first customers to test it out.
On July 9, the Seattle-based company announced that it would be doing its part to cut back on plastic straw waste. In a press release, it revealed that it aims to get rid of all its straws by 2020. Instead, your favorite Iced Caramel Macchiato will be served in a plastic lid with a built-in sip opening. It's pretty similar to the tops you enjoy with your hot beverages, just with a wider opening.
Starbucks has been stepping up its game recently in the drinks department, and 2018 has been all about helping us all fuel up in the most delicious ways possible. While you can rest easy knowing these two new beverages are here for the long haul, you should also be taking full advantage of Starbucks' limited-edition summer drinks while you still can.
My personal favorites are the Summer Sunset and Summer Sunrise Cold Foam Tea Lemonade, which make paying homage to your favorite time of the day so refreshing and Insta-worthy. The ombré-hued, tropical-inspired drinks taste just like summer, so it's fitting that they launched on June 22. While there's no official date for when the limited-edition sips will be taken off the menu, I have a feeling that they'll be gone when fall comes around. Luckily, you've got a pretty delicious consolation prize with Starbucks' Iced Vanilla Bean Coconutmilk Latte.