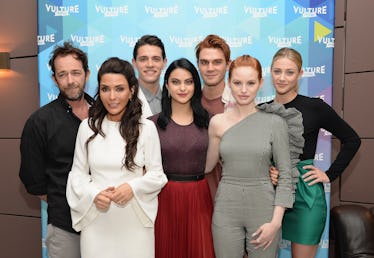 Here's What The Cast Of 'Riverdale' Looked Like Before They Were Famous
Andrew Toth/Getty Images Entertainment/Getty Images
Riverdale low-key gained a cult following and became one of the most adored shows on television within one season. Now, it has an amazingly dedicated fan base. The show really deserves all the praise it receives. The plot is mysterious, the characters are lovable, and the chemistry between the actors is unmatched. Although the show is only on it's second season, it's surprising to see how some of the actors have changed (mostly their hair color). Here's what the cast of Riverdale looked like before the show became a huge hit.
The show follows a group of normal high school students (inspired by the Archie comic series). However, in Season 1, the town of Riverdale quickly becomes a haven of crime when a fellow student gets murdered. The fear and mystery continues into Season 2 as the repercussions of the murder start to unfold. The plot is so enticing, but the chemistry between cast members is what keeps fans coming back.
The cast list is an interesting mix. Some of the actors, like Cole Sprouse, have been in show business basically their whole lives. While others, like Camila Mendes, are very new to Hollywood. Meet the cast below and see how they've changed in just a few short years.
The Cast
KJ Apa: Then
Now:
KJ Apa plays Archie Andrews, the good-hearted redhead who sometimes makes stupid decisions. Sorry, Arch, but what the hell are you thinking most of the time? There's a lot more to love about KJ Apa than his abs — he's an excellent actor on the show, too.
Apa's signature on the show is his bright red hair. Before Apa joined the cast of Riverdale and reinvented himself, he was a brunette and had a few recurring roles on the TV series Shortland Street and The Cul De Sac. I'm so used to seeing him with his almost cartoon-ish red hair that the brown looks off to me.
Cole Sprouse: Then
Now:
OK, most of us know Cole Sprouse from The Suite Life of Zack And Cody. Now, we're used to his brown locks as Jughead Jones on Riverdale. What about in-between when he was living a low-key life in New York City? I think the chart above really shows the evolution of greatness.
I'm a huge fan of Sprouse and a Bughead supporter, so I loved Sprouse then and I love him now. Keep being you, Cole.
Madelaine Petsch: Then
Now:
Cheryl is the best character, in my opinion. Her attitude and hair flips are next level. Before Riverdale, Madelaine Petsch had just began her acting career in 2015 with a few small roles, according to her IMDb page. Honestly, she fits as Cheryl so perfectly, I couldn't imagine anyone else in that role.
The photo above from Petsch's Instagram was posted in March of 2014 — long before Riverdale. According to the caption, she was on set with Coca-Cola. In the photo, Petsch looks so young, but she's rocking those curls.
Lili Reinhart: Then
Now:
Lili Reinhart is about as natural of a beauty as one gets. Not much has changed with her time on Riverdale. According to IMDb, the Cleveland-born actress started acting in 2010, and doesn't plan to slow down anytime soon.
The video above is a dub smash she posted in July of 2015 to show you that famous people do silly stuff, too.
Camila Mendes: Then
Now:
Riverdale was the first acting gig Camila Mendes scored after college at NYU Tisch School of the Arts, according to IMDb. Like Reinhart, Mendes also liked using her free time in 2015 to make dub smashes. Celebrities are truly like us.
Ashleigh Murray: Then
Now:
Ashleigh Murray plays Josie in the series, and this girl can sing as well as she can act — spectacularly. Honestly, justice for Josie because she needs more screen time. She's had a few small roles in various short films since 2007, but Riverdale has definitely put her on the map.
The starlet shared the photo above of her and her older brother via Twitter. It was too cute not to share.
Casey Cott: Then
Now:
Casey Cott aka Kevin Keller is truly the doll of Riverdale. He's another newbie to the acting scene. According to IMDb, besides Riverdale, Cott has also appeared on an episode of Law & Order: SVU and a short video with Sabrina Carpenter. He obviously found the right career because he's a great addition to the Riverdale cast. Also, his shorts in the childhood photo above are so, so funny.
Although many of them are new to Hollywood, the cast of Riverdale is adorable, and their chemistry is undeniable. The mystery surrounding the show will make you want to sleep with the lights on, but the cast will keep you coming back every week. Love you, Riverdale.
Check out the entire Gen Why series and other videos on Facebook and the Bustle app across Apple TV, Roku, and Amazon Fire TV.