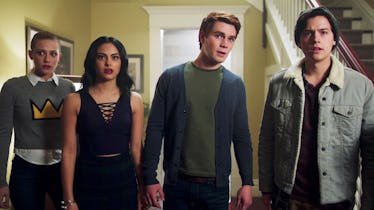 Here's Everything You Need To Know About 'Riverdale' Before Season 2 Premieres
CW
The leaves are falling, the lattes are pumpkin spicing, and the CW's hot teens are getting ready to solve more murder mysteries. Riverdale is almost back for its second season, and it has a lot of questions to answer for the fans who are still shocked by that crazy cliffhanger. But before you tune into the Season 2 premiere of Riverdale on Wednesday, Oct. 11, here's a quick Riverdale Season 1 recap to refresh your memory on everything going on in this crazy, murdery town.
The Main Characters
Let's start with the basics: a dark, modernized adaptation of the Archie comics series, Riverdale centers on the friendship of four high school students: Archie Andrews, Betty Cooper, Veronica Lodge, and Jughead Jones.
Archie is the high school's golden boy, a football star who sets athletics aside to pursue his passion for music in the first season. Betty is initially presented as the quintessential girl next door, but reveals an unexpected dark side when it comes to getting vengeance. Jughead comes from the "wrong side of the tracks" as he puts it, and is the son of gang member FP Jones. He and Betty team up to use their investigative skills to spearhead the effort to solve the mystery of Jason Blossom's murder. Veronica is a the new girl in town, downgrading from rich city living after her father was arrested for embezzlement. She uses her fresh start to reinvent herself as a better person after being a ruthless queen bee in New York.
The Relationships
Archie does a ton of dating in Season 1. His long-time best friend Betty begins the show with a crush on him, but Archie instead begins dating his music teacher Miss Grundy (who we later learn fled an abusive marriage and changed her name when moving to Riverdale). When Miss Grundy is forced to leave town, Archie dates Josie and the Pussycats band member Valerie Brown, however that soon switches over to a brief, tenuous relationship with Cheryl Blossom. At the end of the season, Archie enters a relationship with Veronica.
But the major relationship fans of the show have become most invested in is Betty and Jughead. The two friends were brought much closer together by their investigation into Jason Blossom's murder, and wound up entering a romantic relationship. But that's left in question at the very end of the season, when Jughead accepts an offer to join his father's gang the Southside Serpents after hooking up with Betty.
The Cliffhangers
OK, now let's get to the stuff you really have to know about going into Season 2 — all the crazy cliffhangers Season 1 left us with.
The major cliffhanger involves the surprise shooting of Archie's father Fred Andrews in the season finale. In the last scene of the season, a masked gunman bursts into Pop's diner and fires at Fred before running off. Who was this gunman, and will Fred survive the attack? These are the two most pressing questions entering the new season.
Another big thing to look forward to is the introduction of Veronica's father Hiram Lodge (played by Mark Consuelos) into the show. At the end of last season, Veronica's mother reveals that her dad is finally out of jail and heading to live with them in Riverdale. This is particularly troubling since we know Hiram is very powerful and very amoral — he was able to ruin Fred's construction business from behind bars. In fact, Hiram is one of the prime suspects to be the man behind Fred's shooting.
But when it comes to burning questions, nothing burns hotter than Cheryl Blossom's arson. Riverdale High's queen bee ended the first season finding out that her father was responsible for murdering her brother after Jason discovered his dad's involvement in drug dealing. Initially, Cheryl attempts suicide, but is saved by Archie. She then responds by taking deadly control of her family affairs by burning down the Blossom mansion.
And last but not least, fans were left with some serious questions about whether Betty and Jughead's relationship will stay strong or fall apart after he joins the Southside Serpents following his father's imprisonment. Jughead has already started pulling away from the group now that he's been relocated to a foster family in the south side.
All of these questions should get answered (and replaced by even more questions) in the second season of Riverdale, which premieres Wednesday, Oct. 11 on the CW.