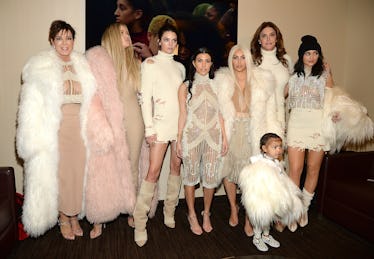 Here's The Kardashian-Jenner You're Most Like, Based On Your Love Life
Kevin Mazur/Getty Images Entertainment/Getty Images
Who are you? What is the meaning of life? There are plenty of important philosophical questions out there, but the most important has simply got to be: Which Kardashian-Jenner are you most like? Now, there are plenty of ways to determine which KarJenner sister you're most like. Are you more interested in makeup like Kylie Jenner or law like Kim Kardashian? Are you a blunt AF Aries like Kourtney Kardshian or a sensitive-and-sweet Cancer like Khloé Kardashian? Is your dream job title "momager" à la Kris Jenner?
But the most fun way to determine who you're most like, in my opinion, is based on your love life. These sisters have fallen in love, gotten married, gotten divorced, and spoken honestly about their sex lives — all in front the cameras. While they've each had their share of high-profile romances (even famously private Kendall Jenner), they've approached their love lives with totally distinct attitudes. While you might not ever have to negotiate over your Calabasas mansion in your divorce settlement, you probably do relate to at least one of these women when it comes to dating and relationships.
Ready to discover which member of the Kardashian-Jenner family simply gets you? Keep reading.