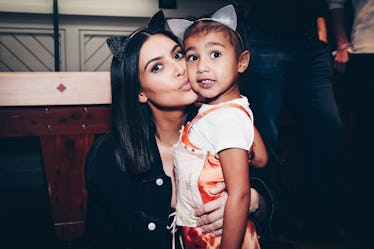 20 Old Photos Of The Kardashians That Look Just Like Their Kids
Handout/Getty Images Entertainment/Getty Images
The KarJenner sisters' appearances have changed significantly over the years, but so much of them still resemble their younger selves. The girls often post pictures of their children that now look just like they did back then. From button noses to big brown eyes, the reality stars have definitely passed down some of their strong genes from both their father, Robert Kardashian, and mother, Kris Jenner. These 20 old pictures of the Kardashians look so much like their kids (minus the clarity of iPhone pics because they were probably taken on disposable camera film), they'll make you do a double-take.
As much as the kids look like their moms, they somehow manage to look exactly like their dads, Kanye West, Scott Disick, Travis Scott, and Tristan Thompson, too, leading to a mix of hair and eye colors, adorable smiles, and everything in between. If you're keeping up, Kris Jenner has 10 grandchildren, and each is unique and beautiful in their own way.
Kourtney Kardashian's sons, Mason and Reign, and daughter, Penelope, favor Disick, but many of their features are definitely passed down from the late Robert. Kim Kardashian and West have four little ones who each resemble their parents in different ways. Kylie Jenner's daughter, Stormi, is hands down her mini-me, while Khloé Kardashian's daughter, True, is the spitting image of Thompson. But those aren't the only offsprings we're mentioning in this list, in fact, anyone who's had a Kardashian child (from Kris' mom, Mary Jo, to Tristan Thompson) will be considered part of the fold.
I could go on and on about each of the individual KarJenner kids, but I think the photos below speak for themselves.