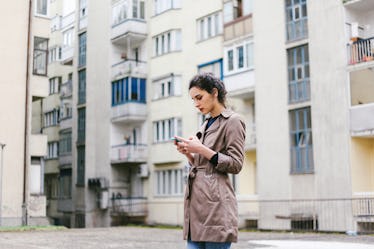 The Best Way To Text Your Roomie, Based On The Kind Of Fight You Had
You can't live with them and you can't live without them. Seriously, who else would keep you company in the morning when you're making breakfast, or help you clean the apartment on a lazy Sunday? Roommates are the girls who started out as strangers in college and turned into soul sisters. There's just something about sharing spaces that makes you bond with someone on a whole new level. But, while these companions bring out the best of us at times, they can also cause some trouble. Even though you really love each other, you'll inevitably have your conflicts, too — and in those moments, it's important to know how to text your roommate after a fight, because sometimes you just don't have the energy to do it in person.
Maybe she just didn't do her share of the dishes, and you're so tired of picking up after her mess. Or maybe her boyfriend slept over, and they were fighting until the break of dawn, despite the fact that you had work early the next day. When you're living with someone, the opportunities for making memories are endless, but so are the ones for fights that feel like they last forever.
There's truly no worse feeling than not feeling comfortable in your own apartment after a huge fight with your roommate. You try to keep things casual, and cross all of your fingers that texting her early in the day will help break the ice a bit. To find out how to approach these touchy subjects in the best way possible, I reached out to psychotherapist Dr. LeslieBeth Wish, the founder of www.lovevictory.com and author of Smart Relationships, and clinical psychotherapist Nicole Richardson, LPC-S, LMFT, for some expert advice on what texts you should send to smooth things over after a fight.