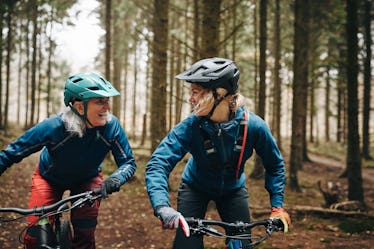 8 Moms Explain How You'll Know If You've Met The Love Of Your Life & AW
If you've been in love before — but this time, it feels different — you may be wondering how to tell if you've met the love of your life. Will the gates of heaven open? Will there be a big neon sign? Will a flashmob break out in the middle of the city and do a dance to Old Town Road? I can only dream.
Sometimes, falling in love can feel like a movie. There are moments when you look into each other's eyes and it feels like you and your boo have been transported to a beautiful field of flowers, with inspirational music playing in the background. Other times, love is hard and painful, or even frustrating. Through all the ups and downs, however, there is one constant: Mothers give amazing advice, and even if I sometimes hate to admit it, they are usually right. When it comes to knowing if you've found the love of your life, asking a mom can be the best way to get some deep insight. They've lived longer and have seen more than you have, so they may know what really matters. And although not everyone has a mom or a maternal figure in their life (and that's totally OK, too), there still can be something to be gained from the wisdom of other mothers.
I asked eight moms how to tell if you've met the love of your life, and what they said is so, so good.