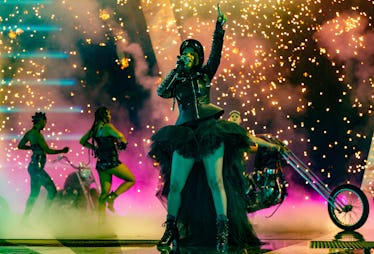 Here's How To Stream Cardi B's 'Invasion Of Privacy,' So You Can Listen On Repeat
Christopher Polk/Getty Images Entertainment/Getty Images
Cardi B's debut album Invasion of Privacy is dropping Friday, April 6, and fans are pumped for the rapper's long-anticipated album. She's released two mixtapes in the past — Gangsta B*tch Music Vol. 1 and Gangsta B*tch Music Vol. 2 — but she's never released a full-fledged album, so the drop on April 6 will be a first for the "Bodak Yellow" rapper. If you're wondering how to stream Cardi B's Invasion of Privacy, we've got you covered.
Cardi has already released four songs from the album with "Bartier Cardi" featuring 21 Savage, "Be Careful," "Drip" featuring Migos, and "Bodak Yellow." She announced the full Invasion of Privacy tracklist on Wednesday, April 4. Check it out:
1. "Get Up 10"
2. "Drip" featuring Migos
3. "Bickenhead"
4. "Bodak Yellow"
5. "Be Careful"
6. "Best Life"
7. "I Like It"
8. "Ring"
9. "Money Bag"
10. "Bartier Cardi" featuring 21 Savage
11. "She Bad"
12. "Thru Your Phone"
13. "I Do"
All of the singles from the album so far have been posted to Spotify the day they were released, so it's a safe bet that Cardi B's Invasion of Privacy will be available for streaming on Spotify on April 6. As for iTunes, the album is not available for pre-order, but it should be available for purchase right when April 6 rolls around. Some albums are released right at midnight the day of its release, some are released a few hours later. Seeing as this is Cardi's first album though, I feel like she'll want to rake in as many sales as she can by having the album immediately available come midnight. Time will tell!
Fans are hoping this debut album means a Cardi B solo tour could be on the horizon, or possibly even a tour with her fiancé, Offset.
A tour with Offset would definitely be interesting. The couple has gotten criticism for their relationship recently because of rumors that Offset reportedly cheated on her. Their engagement is still on, despite the rumors of his cheating that came out back in January 2018. Elite Daily reached out to Cardi B and Offset's teams for confirmation on the reports, but reps for the rappers did not respond at the time of publication. Cardi B's response to the criticism made clear her feelings about the public opinion surrounding her relationship.
She said in an April cover issue interview with Cosmopolitan,
It's like everybody is coming down my neck, like, 'Why are you not leaving him? You have low self-esteem.' I don't have low self-esteem. B*tch, I know I look good. I know I'm rich, I know I'm talented. I know I could get any man I want—any basketball player, football player. But I want to work out my sh*t with my man, and I don't got to explain why. I'm not your property. This is my life.
She continued,
I'm going to take my time, and I'm going to decide on my decision ... so let me deal how I want to deal with it. It's not right, what he f*cking did — but people don't know what I did, 'cause I ain't no angel.
Seeing as Offset was in the "Bartier Cardi" music video, I'd say things are going well between the two rappers. As for an Invasion of Privacy tour, it's not clear whether or not that's in the works. The only tour Cardi is booked for as of now is the final leg of Bruno Mars' 24K Magic tour. Cardi will be joining Mars on the road from Sept. 7 to Oct. 27, 2018. This final leg of the tour is just in North America and will conclude with a couple of nights of performances at the Staples Center in Los Angeles, so we'll have to wait and see if Cardi will take this album on tour.
But we won't have wait much longer for the album itself, thank sweet baby Jesus. Cardi B's Invasion of Privacy drops on Friday, April 6, 2018. Brace yourselves, Cardi is coming.