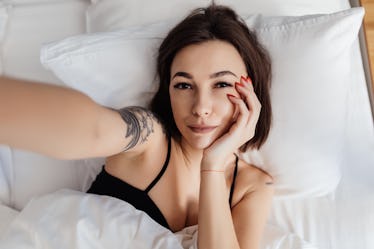 6 Ways To Be Intimate With Your SO If You're Quarantining Separately
Shutterstock
During the coronavirus outbreak, social distancing and quarantine make it easy to feel isolated and lonely. This is especially true if you and your partner have taken up residence separately in your family homes. Experts predict the pandemic will continue for the next few months, so it's essential to stay connected to your loved ones for the sake of your emotional health and well-being. If you're down to get creative, it's totally possible to maintain intimacy if you're away from your partner for the foreseeable future.
Thankfully, technology makes it possible to connect for FaceTime dates and happy hours — something you're probably already doing with your partner and friends. Candice Smith, intimacy consultant and founder of Tango couples' kits, tells Elite Daily that setting a routine will help you and your SO stay in regular contact. "Set a time for virtual hangout sessions, like a virtual Netflix-and-chill or a call before bed," she suggests. Video or phone sex is totally an option, too — but when you're living in your parents' house, that option might feel a bit tougher to pull off discreetly.
To help you make the most of this challenging period of long-distance dating, Smith outlines her best tips for staying emotionally connected to your partner, even when you're miles apart.