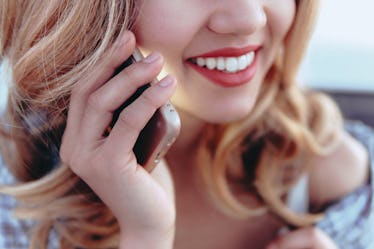 People Reveal Whether Or Not Phone Sex Is Still A Thing For Them
Upon seeing the term "phone sex" in print recently, I had many questions: First, is it the '90s? And second, speaking of the '90s, why am I exclusively picturing Miranda from Sex and the City saying "d*ck" into a giant phone? Also, did she have braces in that episode? (She didn't, but I can dream.) It turns out that I am not the only one who thinks of Miranda and the Chicago lawyer when they hear the term phone sex. In a new anonymous Elite Daily survey of 35 people, four other respondents replied with SATC references. Like Carrie, I couldn't help but wonder, does phone sex still exist?
My first instinct is to say that no, phone sex absolutely does not exist, as it has been replaced by the less vulnerable sexting session as well as the more vulnerable FaceTime sex or Skype sex. Then, I realize that I can't say that phone sex is a dinosaur concept until I actually define what on Earth constitutes phone sex in 2018. Is it dirty talk via phone audio only? Is it any kind of sex on any kind of phone? Can you have Apple Watch sex, or have I gone too far down the rabbit hole?
What Counts As Phone Sex?
One 27-year-old female respondent described phone sex as "dirty talking over the phone," while another 22-year-old woman described phone sex as "talking dirty over the phone with another person, usually while both masturbating." In fact, the majority of responses used the words "dirty" and "talk" in describing what phone sex was, which makes sense as phones are things one talks on and sex is usually a bit dirty. Sixty-two percent of respondents actually mentioned the act of "talking on the phone" as what came to mind when they heard the term, differentiating phone sex from sex that takes place over FaceTime or Skype.
In addition to the Miranda references, 34 percent of respondents mentioned pop culture as something that came to mind when they thought of phone sex. A 24-year-old woman said that when she heard the term "phone sex" she thought of, "Specifically, Anne Hathaway talking dirty in the move Valentine's Day... I just think of people saying dirty things over the phone, or describing what they want to do to the person on the other line." Other references included 30 Rock, American Pie, general rom-com and "fan fiction tropes," and those old-school, late-night sex hotline ads, which I believe still exist.
Overall, respondents seemed to classify phone sex an a bit of an archaic idea that conjured images of a time before iPhones. Like me, one 22-year-old woman replied that when she heard the term, she immediately thought of the 1980s.
So, Do People Actually Still Have Phone Sex?
Well, according to our little survey, not really. Fifty-six percent of respondents said that they primarily used texting for sex via technology with a partner. Snapchat was the next most popular medium, at 11.8 percent, with FaceTime and Skype tied for third place 8.8 percent each. Additionally, 48.6 percent of respondents said that they never had phone sex over the phone. That number fell to 22.9 percent when FaceTime and sexting were included in the definition of phone sex.
So why the change? Texting is just easier. It's definitely also less awkward, more convenient, and easier to do when you live with roommates. When asked to define "phone sex," 34 percent of respondents mentioned the specifics of two people actually describing with words what they would do to their partner if they were in the same space. Sure, you can do this on the phone, but you can do this more thoughtfully and carefully (with edits) via texting as well.
One 29-year-old male respondent classified his phone sex experience as "good, but it required a suspension of disbelief. I think I felt a little ridiculous trying to sound sexy. FaceTime and Skype worked out a lot better cause you can gauge body language and non-verbal cues. I was comfortable having sex in person with my girlfriend, but all of a sudden, I was super self conscious doing it over the phone." This sounds about right to me!
Communicating your sexual desires to your partner is a vulnerable act whether you are in the bedroom together or connected by nothing more than a cell phone connection. It makes sense that texting makes it easier to get vulnerable because it provides a sort of buffer. But then it also makes sense that video chat sex is a good way to get really vulnerable because it's the closest to real life sex — you can see and hear your partner. Maybe phone sex is just too much of an awkward in-between. Or maybe it's a hot throwback to the '90s to try with your partner next time you're apart. Why not? The '90s are back.
Check out the entire Gen Why series and other videos on Facebook and the Bustle app across Apple TV, Roku, and Amazon Fire TV.
Check out the "Best of Elite Daily" stream in the Bustle App for more stories just like this!