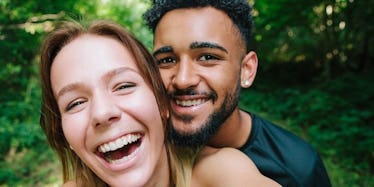 7 Adorable Dates You Can Still Have With Your Long-Distance Boyfriend
KKGAS/Stocksy
Even if you and your significant other live on opposite sides of the country, you can totally still have an incredible relationship. When it comes around to date night, you really don't have to be sad that you can't physically cuddle up together. Yes, you live in different zip codes, but there are plenty of dates to go on with your long-distance boyfriend that are just as romantic.
Get creative with today's technology to make the distance between you two feel a whole lot smaller. Don't ever feel limited. The distance just makes you a more creative couple. Here are seven adorable dates you can still have with your long-distance boyfriend.
1. A Stay-In Movie Night
Dinner and a movie is the go-to date night idea. You guys can go back and forth on what movies to watch on Netflix, and get this Skype date going. When you settle on a decision, sync up the movies, and watch them at the same time. Pick out some of your favorite snacks to go with your flicks.
2. Go On A Scavenger Hunt
You can investigate your boyfriend's city and plan out an elaborate scavenger hunt for him to go on. He can do the same for you. Find places you would want to visit if you were together, and make each other go on an adventure all night visiting these cute spots. Take pictures, and you guys can Photoshop them together.
3. Send Each Other Your Fave Recipe To Make For Dinner
Send your favorite recipe, then plan a night of the week to make each other's dishes. You can Skype while cooking, and then set up the screen across from each other as you eat. You're sharing something important to you, aka your favorite meal, and a romantic candlelit dinner.
4. Mail Each Other The Perfect Date Night
You guys probably send each other gifts and care packages in the mail, so why not send each other the perfect date night? Get a box together with all of the essentials your boyfriend would need. Maybe an outfit, your favorite DVD, and some snacks. Plan out the perfect date for each other, and go for it.
5. Go To A Coffee Shop
Find a cute coffee shop in town with great Wi-Fi. Set up your laptop for a Skype call, and spend the evening sipping coffee drinks and talking to each other. You can maybe even bring the same book you've both been wanting to read together.
6. Plan Your Next Vacation
Vacation planning can be fun so much fun. You and your boyfriend can have an evening of researching and planning. You know it'll be exciting, because you're now looking forward to getting together again in the near future.
7. A Flirty, Fun Game Night
There are plenty of online games that you and your boyfriend can play together. Break out the pizza and beer for a night of gaming. Talk on the phone while playing, so you can get the flirty competition going.