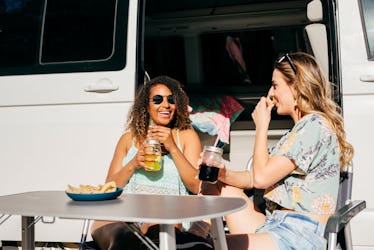 7 Ways To Break The Ice When Your First Date Convo Feels A Little Awkward
So you've had your meet-cute or your swipe-right, you've hit it off, and now you've made it to the first date. You've put on your Tuesday night best, listened to your pump-me-up playlist, and have made your way to the restaurant. Maybe there's an awkward wave or embrace before the surrealism of being face-to-face (again) sets in. And then you're wondering just how to break the ice on a first date. Maybe it's going swimmingly: You hit it off again and can barely pause your convo to order food. Or maybe your waiter coming over to see if you're ready to order was a life preserver, since you two were drowning in painful silences and stilted small talk.
Luckily, if you've found it hard to move past first-date moments like these in the past, you're not doomed to flounder at sea. There are no awkward silences you can't recover from, says Akua Genfi, mental health counselor and co-host of queer black sex ed podcast Inner Hoe Uprising. "If you are determined, you can bounce back," she says. Along with prioritizing having a good time, here are some tips and tricks you can keep on deck help first dates sail a little smoother.