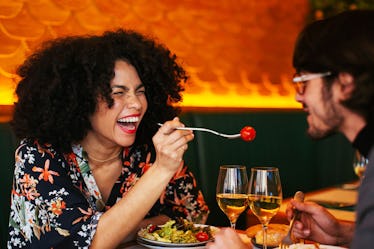 A Relationship Expert Reveals The Things They Wish You'd Stop Doing On A First Date
I am not so great on a first date. I'm someone who's actually shy, but puts on a good "extrovert" performance. And while that can help you get through many social functions, it's not quite as effective on a first date. Eventually, the mask slips and I end up being an awkward weirdo. The key, it turned out, was to find someone who appreciated my secret awkwardness. While my story has a happy ending, I really could have used some solid advice about things you should stop doing on a first date so I could have saved myself a lot of embarrassing moments. And I mean a lot.
Since I don't want you to have to suffer like I did through years of bad first dates, I reached out to experts to find out what things you may be doing on a first date to sabotage yourself without realizing it. They broke down a handful of common mistakes folks make on a first date that are killing their mojo, so that you can avoid them on your next romantic outing. Trust me, these tips will make a world of difference! Here's what the experts say you should stop doing on first dates.