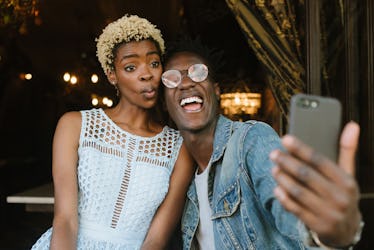 5 Things You Shouldn't Worry About On First Dates, Because They Really Don't Matter
If you're reading this because you just Googled "how not to be nervous on a first date," please — please — take it from me: You will be fine. You will be amazing. Nothing will go wrong. Just take a deep breath. You got this.
Pre-date jitters are common. It's natural to feel a little out of your element when you're meeting someone new for the first time, and that goes double when you're meeting someone you may hope to eventually see naked. You might worry about making a good impression, or running out of things to say, or getting a huge piece of spinach stuck in your teeth.
I used to get nervous before first dates, too. Then I started working as a matchmaker for a dating service, and that experience unlocked a major realization for me: Dating is like a box of chocolates — you never know what you're going to get. And sure, that could be worrisome, but it's also pretty freeing: All you have to do is show up as your most confident, badass self, and see if the chemistry is there. If it is? Great! If not, no sweat. You're bound to click with someone else on a different night.
Trust me — these five things below truly do not matter one speck on a first date. So go forth, feel awesome, and have a good time. Remember, your date is lucky to meet you.