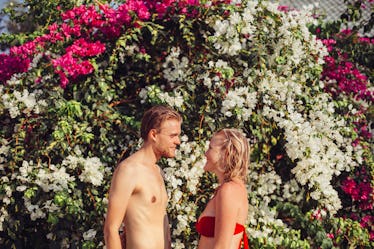 3 Early Signs You Are Going To Have Undeniable Chemistry With Your Crush
I don't know if there's anything better than the excitement of having a new crush — especially when that feeling's reciprocated. The butterflies that rush through your stomach as soon as they enter a room. The electricity that zips through your veins each time their hand brushes across your thigh. The way literally everything about that person seems interesting, enticing — as though they've been woven together by 100 percent boyfriend or girlfriend material. Before you ever reach that point, though, you've got to ensure that there are early signs of chemistry.
Regardless of how compatible you and your potential partner seem to be on paper, if there's no spark or fire between the two of you, it's tricky to build an exciting, fulfilling relationship with that person (frustrating as that may be).
Take it from me. A few years back, I dated — er, went on several dates with — a guy who seemed like my ideal type. He was cute and successful, with an English accent and a degree from the University of Cambridge. We had fun together, sure, and conversation was fairly easy, but there was nothing really thrilling about the time we spent together. I didn't crave his company in-between dates, or crack up at his jokes, and I definitely didn't have that fiery, excited feeling when we kissed. Because, as I soon realized, we just didn't have a chemical connection.
That said, it can sometimes be tricky to tell whether or not you and your date really have chemistry — especially if they're ticking all of your other boxes (see example above).
To help you unearth those signs early on, I chatted with Erika Kaplan, senior matchmaker at Three Day Rule, about the sparks and signals you should look out for in an early relationship. Here are the three greatest signs that you and your crush have real-life chemistry, as told by a true pro.