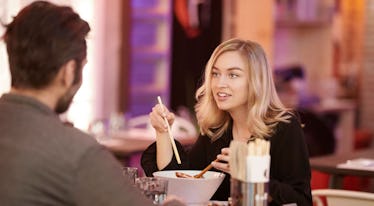 If You Get Nervous Before A First Date, You're Probably One Of These 4 Zodiac Signs
Before every date I ever went on, I would give myself a pep talk. I would tell myself, "Chill out and just enjoy the night. Don't try too hard. Don't worry so much. Just relax and let what happens happen." Yeah, that never worked. By the time the date began, I was a bundle of nerves — sure utter humiliation was nigh. And, TBH, it usually was, because when you are this freaked out you're pretty much guaranteed to act like a weirdo. But I'm a Virgo, one of the zodiac signs that get nervous before a first date, so I really never had a chance.
While understanding that my zodiac sign has a tendency to be anxious on first dates didn't make the nerves magically go away, there is something cathartic about knowing that it's a "Virgo thing," rather than just a "me thing" to have a full-on panic attack before sharing a meal with another human person. Baby, I was born that way. And Virgos aren't the only ones in this first date anxiety boat. Folks who have to step into the bathroom to take deep breaths periodically throughout the date, whose minds race throughout the night, and who aren't mad at a pregame cocktail or two... or three, are all on the same boat. So, if all of that sounds familiar, well, guess what? You're probably one of these signs.