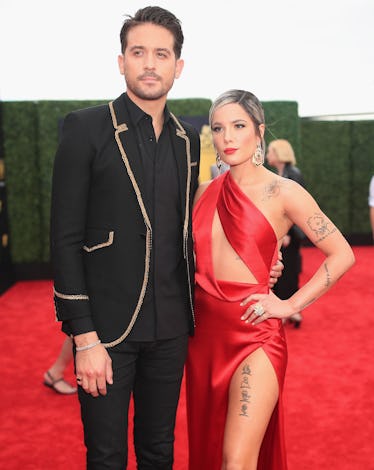 Halsey Shared A Sweet Instagram Photo Of G-Eazy That Has Fans In Their Feelings
Christopher Polk/Getty Images Entertainment/Getty Images
Good morning to Halsey, G-Eazy, and no one else! The singer just shared a picture of her ex-boyfriend on Instagram and it's... sweet? Romantic? A signal to fans they're back together? He's not wearing a shirt. I can tell you that. Halsey's new Instagram photo of G-Eazy has fans all up in their feelings after their rollercoaster split this summer, and I don't know how to feel. I think I'm happy, but I don't trust it.
Halsey and G-Eazy shocked fans when they first announced their breakup on Jul. 3. According to insiders who spoke with E! around that time, they had been going through some "ups and downs" for a while. The sources also claimed things like their independent work schedules and trust issues were at the center of their conflict. Halsey stoked the fire even further when she insinuated G-Eazy might have cheated on her via two cryptic tweets following their split. However, that rumor came and went, too.
Flash-forward through some supportive comments about one another on social media, one episode of tears from Halsey on stage, plus G-Eazy's new tattoo that looks a lot like her, and now they're back to kissing in public. As recently as Aug. 31, the two shared a kiss on stage during a surprise performance of their hit song "Him & I" at PNC Bank Arts Center in Holmdel, New Jersey. Fans are obviously here for it, but also, ya know, still confused. Elite Daily previously reached out to both Halsey and G-Eazy's teams for comment on the status of their relationship but did not hear back by the time of publication.
Following their live smooch, Halsey shared two intimate photos of herself and G-Eazy on Instagram. In the pictures, it looks like they're about to go to the beach, and she simply captioned the photos with a tongue emoji.
The truth is, they really do seem perfect together. For that reason alone, fans are still shipping them as a power couple. Just before their PNC kiss, G-Eazy boasted, "Make some noise for the most beautiful woman on this planet right now!" I mean come on, guys. That sort of feels like true love, doesn't it? Fans commented all sorts of things on Halsey's photo like, "okay this is really cute u can't deny it," "your love gives me life," and, my personal favorite, "YAYAYAYAYAY!"
According to a source who spoke with E! News, Halsey and G-Eazy are "working on their relationship" right now, which should mean at least some of their initial breakup animosity must be gone. Another insider told E!, "They are being casual right now, but are definitely working on things," adding, "They are both hoping they can have a healthy friendship, if anything."
Well, based on this straight-up adorable photo set, it looks like things are going well.
I've never actually known anyone who can pull off the "remain just friends" thing with an ex they loved once upon a time. But, then again, I'm not Halsey or G-Eazy.
Weird.