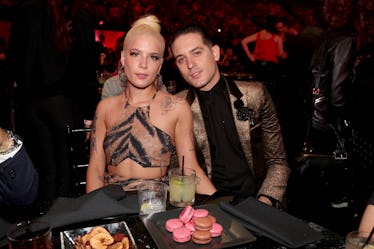 Halsey Commented On G-Eazy's Instagram & What She Said Has Me So Confused
Christopher Polk/Getty Images Entertainment/Getty Images
Instagram has made breakups so much weirder. Figuring out how to act around your ex is hard, but trying to navigate that on social media seems impossible, and no one is safe from it — not even celebrities. Halsey's comment on G-Eazy's Instagram about "big d*ck energy" has me so confused, and clearly she doesn't even know what to do around her ex anymore.
Now, normally I'm happy to see celebs who break up still chat with each other online, but this most recent exchange between Halsey and G-Eazy is a bit of a head scratcher. They're no longer an item but apparently still Instagram buddies. So on Saturday, July 21, when G-Eazy posted an Instagram of himself on stage at the Sunlight Supply Amphitheater in Ridgefield, Washington, with the caption "Big D*ck Energy* his ex, Halsey was there to respond. The singer posted an emoji of a cloud, a tornado, and a raindrop. That's it. So, um, yeah, what?
I'm no emoji aficionado (I really only use three: coffee, pizza, and the 1940's -looking private investigator), but even the most fluent of us probably couldn't figure out what Halsey's emoji sequence was all about. I can't even begin to decipher it, and neither could anyone else.
Commenters had a hard time trying to figure out what Halsey was getting at, so one commenter in particular said "I hope it's petty. I live for petty." Not wanting anyone to think she was being "petty" Halsey returned to try and clarify. "No petty here. Caption dumb funny and stage looks dope. Jealous of everyone who gets to see the show," she wrote.
Is it just me or is Halsey's reply still super confusing? "Caption dumb funny and stage looks dope?" Did she mean to say that the first caption she left was just meant to be dumb and funny? Was she trying to say that the stage reminded her of those emojis? Halsey, what is going on? Help us please!
While Halsey's comment on G-Eazy's July 21 Instagram post was a little cryptic, it's not the first time since their breakup that she's posted something odd on social media. After dating for more than a year and even having a song together called "Him & I," the duo called it quits on July 3. On July 4, Halsey tweeted "pumpkin eater," which had fans speculating the reason the couple ended things was because G-Eazy cheated on her. You know, "cheater cheater, pumpkin eater."
Those speculations have not been confirmed. Halsey originally broke the news to her fans via Instagram stories on July 3 explaining that she usually likes to keep these matters "private" but because of how high-profile they are, decided to share it with her fans. She wrote,
I normally keep this kind of thing private but provided our public nature I feel the need to inform my fans. G-Eazy and I are taking some time apart. I'm eager to continue the upcoming passage of time dedicating myself to my art and my career, and the duration of my tour. I wish him the best. Thanks for respecting our privacy at this time.
The odds of us figuring out the real reason why Halsey and G-Eazy broke up are pretty slim (although never underestimate the power of fans), but it's a good sign that they still have some sort of rapport. Even it's just through nonsensical emojis.