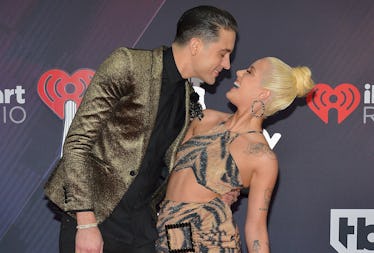 This Moment During A G-Eazy & Halsey Concert Might Be A Sign That They're On Again
Rachel Murray/Getty Images Entertainment/Getty Images
Just when I'd finally started to come to terms with Halsey and G-Eazy's break-up, new evidence has surfaced that hints that there's ~ something ~ going on between the former couple. Halsey and G-Eazy were seen kissing at a concert, and for me, I believe that qualifies as proof that they might have rekindled their romance — unsurprisingly, fans are shipping this reunion so hard. I think everyone can agree that they were the real deal back before they split (I mean, have you listened to "Him & I"?), so can they just decide to officially get back together already? Elite Daily reached out to representation for both Halsey and G-Eazy for comment on their current relationship status but did not hear back at the time of publication.
On Friday, Aug. 31, G-Eazy wasn't shy about his feelings for Halsey as she made a surprise appearance at the PNC Bank Arts Center in Holmdel, New Jersey, per E! Online. While performing their anthem "Him & I," which is basically about their love story, the former couple definitely looked like they were feeling like Bonnie and Clyde again.
If you had any doubt about where the former couple stand, they then locked lips, and the whole thing got pretty steamy, as seen by videos shared by fans on social media. In this video shared by @2018bonnieandclyde, you can see the seemingly on-again couple share a pretty passionate kiss.
Unsurprisingly, the crowd went wild as they exchanged the brief but intense kiss as well as some suggestive dance moves, and Halsey's beaming smile looks like she's happy and living her best life.
"Make some noise for the most beautiful woman on this planet right now," G-Eazy raved about his ex during their sultry duet prior to the smooch, per the publication. Halsey also poured on the compliments, mentioning that the rapper was looking pretty fine in white, and their flirty body language definitely hinted that there was something going on. Elite Daily reached out to representation for both Halsey and G-Eazy for comment on their current relationship status but did not hear back at the time of publication.
G-Eazy also shared pics and vids of the couple — although none of the hyped-up kiss — from the Friday night concert on his Instagram. The public kiss seems to confirm rumors that have been swirling around that they were "working on their relationship," according to an insider's report to E! News. I'll admit that I'd pretty much given up all hope on a reconciliation after their sudden break-up announcement in July was followed up with a seemingly shadier-than-thou comment by G-Eazy at the 2018 VMAs red carpet on Aug. 20.
However, the pair crossed paths at an after-party after the event, and they were photographed leaving the nightclub together holding hands. Since then, they've been pictured together on a few different occasions. Fans reported that they saw Halsey making a supportive appearance at the "No Limit" hitmaker's Endless Summer Tour stop in Columbus, Ohio just a few days later.
It's no secret that both parties were pretty bummed out about the break-up, and it sounds like they weren't ready to throw in the towel without a fight.
"They are being casual right now, but are definitely working on things," the insider told E! News at the time. "They are both hoping they can have a healthy friendship, if anything."
It's still the early days of a purported reunion, but the kiss — and the fact that they started following each other on Instagram again — has me betting that they'll be getting back together, gifting us more ballads like "Him & I," and all will be right in the world.