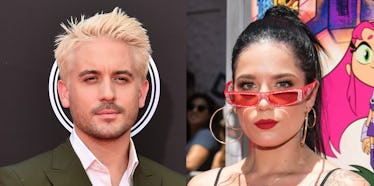 G-Eazy May Have Just Thrown Some Subtle Shade At Halsey On The VMAs Red Carpet
Alberto E. Rodriguez/Getty Images Entertainment/Getty Images /Emma McIntyre/Getty Images Entertainment/Getty Images
The VMAs are here to put the cherry on top of a great summer. Apparently, G-Eazy had a really great summer. If you're watching the Twitter pre-show right now, you're probably asking yourself, "Did G-Eazy shade Halsey on the 2018 VMA red carpet?" Well, it kind of sounds like he did. Actually, it definitely sounds like he did. Yikes, guys. Did you see that?
I'm not trying to start drama, but G-Eazy's comments about summer 2018 threw me for a loop. When he was being interviewed on the red carpet during the Twitter VMA pre-show, G-Eazy said it's been "the best summer" of his life. To someone who doesn't know about his romantic past, it might just sound like the rapper has been having a good 'ol time throughout the past few months. But to someone who has been keeping up with G-Eazy's love interests, it sounds a lot like he shaded Halsey, his ex girlfriend. The duo broke up in July 2018, which was only a month ago.
Maybe I'm just jaded, but it sounds like G-Eazy implied that this summer has been the "best" of his life since he broke up with his ex (who is also in the music industry). Either that, or it's a huge coincidence that he's been having an amazing season while simultaneously going through a breakup.
Either way... ouch.
Again, this could be a huge coincidence. Based off his Instagram account, G-Eazy has been busy performing throughout the summer so far. Maybe that's what he was referring to when he was being interviewed during the Twitter pre-show, but I guess his fans (and Halsey's) will never know.
Either way, you might be wondering what happened to the musical couple in the first place. The duo, who released the song "Him & I" together in 2017, officially split in July 2018. Halsey broke the news on her Instagram account with a message that didn't reveal any answers about why they split. Through her Instagram Story, she wrote, "I normally keep this kind of thing private but provided our public nature I feel I need to inform my fans. G-Eazy and I are taking some apart. I'm eager to continue the upcoming passage of time dedicating myself to my art and career, and the duration of my tour. I wish him the best. Thanks for respecting our privacy at this time."
Excuse me while I drink my wine and cry a river.
Even though Halsey didn't reveal much about the breakup during Instagram, a report following the couple's split gives a little more details. A source told E! News that G-Eazy and Halsey were facing "ups and downs" in their relationship. The insider also said, "They both tried to remain strong to ensure their work commitments together went smoothly, but ultimately called it quits after too much fighting. The trust was lost between the pair when they were apart, and it got too difficult for both of them." Elite Daily reached out to both Halsey and G-Eazy's teams for comment on the report at the time, but did hear back.
Whether the report is true or not, it sure sounds like G-Eazy is doing fine post-breakup. Then again, maybe he was just referring to a great summer of performing while he was being interviewed on the red carpet.