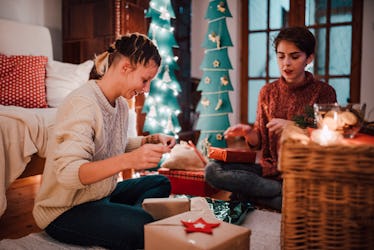 What To Get Your Crush If You've Got Them For Secret Santa — Besides You, Of Course
I try to organize every Secret Santa I'm ever a part of, so that I can rig the name-pulling and maximize the fun. If I know there's love in the air, I'll do my part to bring the star-crossed lovers together, by way of the $5-$15 present. Perhaps all we need to know about getting your crush for Secret Santa, we can learn from episode ten, season 2 of The Office, titled "Christmas Party." Where Jim pulls strings to get Pam (his crush) for Secret Santa and makes Pam a personal and thoughtful gift, which gets lost in the shuffle as the coworkers decide on spot to do a gift exchange game. Spoiler alert: They ended up getting married, so clearly it worked.
Whether you traded for it or if the stars smiled upon you — getting your crush for Secret Santa can be a smooth way to show them how much you care, and how awesome you are. A little gift can be a laid back way to say, "Happy Holidays!" or a bold way to say, "I think we should get married!"
No matter where you're at, here are six ideas about what to give your crush when you've got them for Secret Santa.