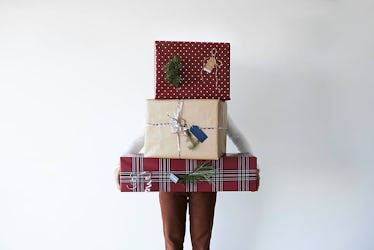 20 Captions For Your Office Secret Santa Pics, Because You've Been Good All Year
Secret Santa is, in my opinion, one of the best (and most fun) activities you can take part in when working in an office. Regardless of whether or not you're super close with all of your coworkers, Secret Santa is still the real deal — and will instantly put you in the festive spirit. So, when you receive your gift this year, you should definitely be prepared with more than a few captions for office Secret Santa pics. (A selfie with your present is required.)
Secret Santa is one of those things that you don't know you're looking forward to until the time comes around, then you realize that you absolutely can't wait. Much like the rest of your Christmas presents, finding out what the surprise gift is going to be is incredibly exciting.
This year during your Secret Santa gift exchange, make sure you snap a pic with your Santa and present, and use one of these captions.
1. "The best of all gifts around any Christmas tree: the presence of a happy family all wrapped up in each other." — Burton Hillis
2. "Christmas is doing a little something extra for someone." — Charles M. Schulz
3. "Laying under the Christmas tree until my coworkers realize that I am the greatest gift of all."
4. "Sleighed the office Secret Santa this year with my crew of reindeer." — Pindar
5. "I don't think Christmas is necessarily about things. It's about being good to one another." — Carrie Fisher
6. "Every gift from a friend is a wish for your happiness." — Richard Bach
7. "Happiness doesn't result from what we get, but from what we give." — Ben Carson
8. "It's not what's under the tree that matters, it's who's gathered around it."
9. "Us every day: slay. Us in December: sleigh."
10. "Christmas is the season when you buy this year's gifts with next year's money."
11. "We're dreaming of a white Christmas. But if the white runs out, we'll drink the red."
12. "Let your heart be light." — Hugh Martin and Ralph Blane, "Have Yourself a Merry Little Christmas"
13. "He was Christmas morning, crimson fireworks and birthday wishes." — Raquel Franco
14. "The best way to spread Christmas cheer is singing loud for all to hear!" — Buddy the Elf, Elf
15. "Don't get your tinsel in a tangle."
16. "We elves try to stick to the four main food groups: candy, candy canes, candy corns, and syrup." — Buddy the Elf, Elf
17. "Sometimes the most real things in the world are the things we can't see." — The Conductor, The Polar Express
18. "Although it's been said, many times, many ways, Merry Christmas to you." — Bob Wells and Mel Tormé, "The Christmas Song"
19. "May your days be merry and bright." — Irving Berlin, "White Christmas"
20. "Maybe Christmas, he thought, doesn't come from a store. Maybe Christmas, perhaps, means a little bit more." — How the Grinch Stole Christmas