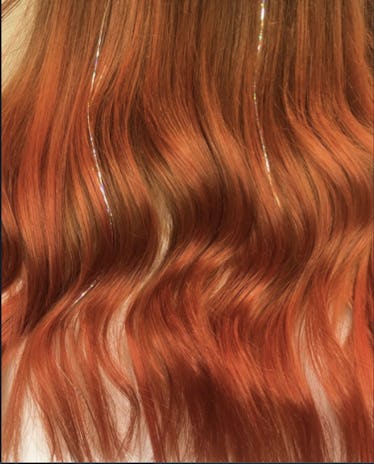 Glitter Highlights Are Taking Over Instagram, Just In Time To Get Your NYE Lit
Calling all sparkle fiends and beauty daredevils: Glitter highlights have arrived, and unlike their more subtle iterations that took past beauty trends by storm, they're brilliantly bold and in-your-face noticeable. What's more, they definitely make my shortlist for the best 2017 New Year's Eve hairstyles, thanks to their festive shine and the fact that they're still a relatively new style (you won't have to worry about anyone else at the party rocking similarly shimmery strands). They're the perfect way to ensure 2018 starts off lit AF.
Before I get into the new way glitter highlights are taking shape, let me backtrack to the late aughts, when twinkling pieces of hair had their first major moment. Tinsel extensions had just hit the beauty scene, and were spotted on everyone from Jennifer Love Hewitt to Queen Bey herself. (Beyonce most notably wore them to the 2010 Grammy Awards as part of her stunning look that quite literally lit up the red carpet.)
Tinsel extensions are super fine strands of twinkling silk that are tied around individual strands of natural hair, which results in an ethereal and delicate effect akin to what you might expect fairies to rock on the daily. (No? Just me?) It's a very subtle way to integrate shimmer into hair. The new way to do glitter highlights, however, is anything but understated.
Much like the glitter roots trend that overtook 2015 and 2016, the new way to do glitter highlights involves super saturated chunks of sparkle. However, the technique used to apply the highlights still allows them to look naturally spread out and not overly blocky. Called "glitterage," it involves painting the glitter onto the hair in the same way that bayalage is done. I've been getting bayalage as a means of maintaining my blonde hair for the past few years and it's 100 percent the way to go. It ensures a natural looking dye job that embraces natural roots, so the upkeep is very minimal. Although glitterage does wash out after a shower or two (it is not done with a permanent dye), it looks as natural as glitter highlights possibly can while still intact.
Taking into account the shortness of the trend's lifespan, what better occasion to try it out for than the single most sparkly night of the year, New Year's Eve? It's a great way to bring the shimmer without having to buy a sequined dress (I always wear outfits with jeans on NYE), and will unquestionably set you apart from everyone else at whatever party you're attending; although it's definitely gaining momentum, glitterage is still a relatively new beauty trend. On Instagram, a search of "#glitterage" only brings up 44 posts, and only about one third of them apply to hair. But the ones that do show the trend are stunning.
If you're interested in trying out the style come Dec. 31st, I'd recommend calling your favorite stylist and asking if they're able to recreate it, or if they practice a similar technique. (Full-on metallic hair could be a great option, too.) If you're hoping to go in a slightly more affordable direction than getting your hair professionally done, you can try foam hair highlighters, or the below IGK glitter hairspray. Apply it to random chunks of your hair for a mimicked bayalage effect, rather than spraying it over your full head.
While I'm sure we can all agree that New Year's Eve wins for most appropriate occasion to wear glitterage, I wouldn't be mad it if it became 2018's biggest music festival beauty trend. Paired with a cool boho dress or even cutoffs and a band tee, I think the color trend would look right at home on the hallowed grounds of Coachella.