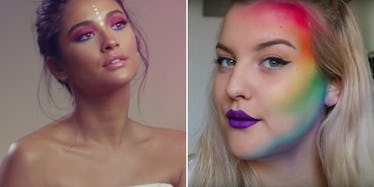 Festival Beauty Looks That'll Keep You Feeling Fresh In The Scorching Heat
YouTube
We've reached the point in the year where the sun has finally decided to show its face again, and you know what that means.
Yes, every girl with a flower crown and every guy with a pair of cut-off jorts will flock to the nearest open field with a stage for music festival season.
But no music festival is complete without hoards of beautiful young women who watched the same makeup tutorial walking around with polka dots over their eyebrows, leaving us all to wonder just how they did it.
And you? Well, you beautiful creature, you're ready, too.
It's time for you to see all of their lame eyebrow dots and raise them glitter — lots of it.
Here are this music festival season's hottest ~looks~ to keep you looking and feeling cool while you sweat out half your body weight:
Look 1: Bohemian unicorn
If we know anything (we don't), it's that 2017 is very clearly the year of the unicorn.
So while everybody at the festival will likely be rocking the iridescent trend that's currently taking over, one-up all of them and take that trend to your face.
Even Shay Mitchell did it, and we all know that Pretty Little Liar can do no wrong.
What you'll need:
Vita Liberata Body Blur Instant HD Skin Finish, $45, Amazon
Not all of us are blessed with a natural, bronze-goddess glow (lookin' at all my fellow ghosts out there), but Vita Liberata's Body Blur can help.
Dot the product in super small amounts on your skin and use a mitt to blend it in, so you rock a golden glow instead of "I just rolled around in Doritos." (Unless that's the look you're going for. If so, then rock the shit out of it.)
Anastasia Beverly Hills Modern Romance Palette, $40, Amazon
Dust the color "Love Letter" on your eyelids, and lightly feather "Red Ochre" into your crease.
Then, use a little bit of a light blue eyeshadow under your eye.
If you're feeling apprehensive because you're not sure if using red and pink on your eyes makes you look cute or like you have pink eye, don't worry.
Just tell everyone Shay Mitchell did it.
Finally, lightly tap the color "Vermeer" along your nose and the tops of your cheekbones for that unicorn sheen.
Make Up For Ever Flash Palette, $99, Sephora; Face & Body Paint Cream, $7, Amazon
Starting at the bridge of your nose, apply the white color in small circles, decreasing in size as you move up your forehead.
Obviously, this gives the appearance of a horn.
But if you're like me, and you already have an actual horn (because you're an actual unicorn), you can totally bypass this step.
Look 2: Star-studded alien
"Out of this world" is very much IN this world lately, so try this star-studded look to let your friends know you are an other-worldly creature not to be messed with.
What you'll need:
Patchology FlashPatch Eye Gels, $50, Amazon
Now, if you want to wake up feeling refreshed and ready to tackle this makeup instead of dark under-eye circles, try these FlashPatch Eye Gels before bed.
Seriously, just stick these babies on for five minutes, massage the gooey stuff into your skin and voila! You don't look like you died six years ago!
Foil Star Stickers, $6, Amazon
Place these little star stickers in small constellations along the apples of your cheeks or anywhere else you'd like van Gogh vibes on your body.
Urban Decay Full Spectrum Palette, $32, Amazon
Next, dust some brightly colored eyeshadow over the area where the stickers are, packing the powder heavily in the middle of the design and getting lighter as you move outward.
Once you're done, remove the stickers.
If you want to get creative and one-up the people reading this who are already one-upping everyone else, use multiple colors for the same constellation.
That way, you'll achieve the perfect "not sure if trendy human or actual alien" galaxy look.
Look 3: Girl with a glitter problem
It's time to drop the jokes about people being unnecessarily distracted by shiny things. Plus, all the better if it's you they're distracted by.
What you'll need:
Perricone MD Multi-Action Overnight Treatment, $115, Amazon
Let me tell you, this cream is like magic soup for your face.
Glitter or any sort of rough particles might be a lot for your skin to handle, so make sure it's prepared, hydrated and radiant by using this Perricone MD moisturizing treatment the night before.
Mixing Medium, $22, MAC; Vaseline, $3, Amazon
Yes, glitter is technically the herpes of all crafts, and it'll stick to you no matter what. HOWEVER, this is music festival season. Your own sweat will be sweating.
To make sure your sparkles stay put, rub either MAC's Mixing Medium or just Vaseline from the drug store across the tops of your cheeks and the bridge of your nose.
NYX Face & Body Glitter, $6, Amazon
For the love of God and your own damn eyesight, please do NOT USE CRAFT GLITTER FOR THIS. That shit will kill you or, at the very least, irritate the hell out of your skin and eyes.
Instead, use a loose glitter pigment.
Dip a small makeup brush into the pigment and pack it into the areas where you put the Mixing Medium/Vaseline.
Play around with both fine and chunky glitter of all colors until your shimmery heart is content.
Look 4: Rainbows and cheekbones
If you can never decide on a single color to use (or if you're queer AF like I am), just use all of them.
Plus, you don't want any fun colors to feel left out, DO YOU, YOU MONSTER?
What you'll need:
Colorescience Sunforgettable Brush-On Sunscreen, $64, Amazon
This Colorescience sunscreen comes in powder form, so you can avoid the whole, "I'm already sweating, and now, this sunscreen makes me look like I have a medical problem" debacle.
Dust this SPF 50 powder with the brush applicator over your face before applying your makeup.
(But maybe use some actual sunscreen on the rest of your body.)
NYX Jumbo Eye Pencil in Milk, $6, Amazon
To make sure your colors pop, cover the places you'd normally contour your face (wherever you put your bronzer) in white and blend it (like your life depends on it) into your skin with a medium-size makeup brush.
Coastal Scents 88 Original Palette, $11, Amazon
Pack the colors of the rainbow (or any colors you want) over the white spots you just created.
Start with red and orange on the sides of your forehead and into your temples.
Dust green in the hollows of your cheeks and yellow along the tops. Finally, use blue and purple along your jawline and down into your neck.
I might as well tattoo this next step on my face: BLEND THAT SHIT OUT.
Using a small, dense makeup brush, blend, blend, BLEND your colors into each other and out into the rest of your face.
And now, you're ready, you gorgeous unicorn-alien-glitter-rainbow creature.
So, go out there and look exactly like 50 of your closest friends.