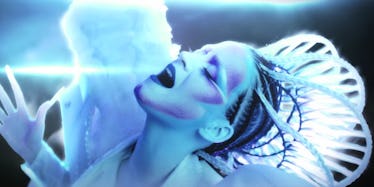 10 Holographic Makeup Products To Try For The Perfect Iridescent Glow
YouTube
Honestly, it's 2017.
If your entire body doesn't look like a holographic Pokémon card by now, you're doing it wrong.
Now, I know we'd all like to put the past (read: all memories of 2016) behind us, but the ultra-highlight, iridescence trend that ran rampant in 2016 isn't going anywhere.
The trend has captivated the masses of young teens and 20-somethings alike, likely because we're all ready to assume our true alien forms and transcend this planet in all its destruction.
Or maybe we just like wearing a reflective rainbow. Both?
Anyway, it's not hard to see why the trend has continued to skyrocket.
I mean, JUST LOOK AT THIS:
That girl is 100 percent about to be me in a hot second — the most reflective unicorn there ever was.
But hey, you might still be teetering on the edge of the iridescent cult.
Maybe you're not quite prepared to bleach your hair until it falls out and drain your entire bank account on reflective accessories filled with rainbow wonder.
I get it. It's not easy to dive in head first. (LOL, just kidding. It took me 34 seconds.)
So, why not start with a touch of hologram on your face? A rainbow shimmer here, an iridescent lipgloss there, and you'll grow into your full alien unicorn potential in no time (sans horn).
Feast your eyes on these 10 iridescent makeup products:
Kat Von D Alchemist Palette, $47, Amazon
Kat Von D's Alchemist Palette is one of the latest additions to her makeup line, and everyone and their grandmother have moved mountains and sacrificed their firstborns to get their hands on this glowing highlight palette.
My go-to technique is just to smash my face into each color for maximum glow.
But, like, I guess you could pick your favorite color and apply it to the highest points of your face like a normal person or something.
Anastasia Beverly Hills Moonchile Palette, $65, Amazon
The minute you dust ABH's Moonchild Palette along your cheekbones and your nose, you could basically star in a TV show called "Unicorns in Space" or something.
Each highlight color reflects differently, so you could even coordinate your highlight color with your outfit, which, let's be honest, will probably be the only consistent thing in your whole life.
Milk Makeup Holographic Stick, $25, Amazon
Thankfully, no animals (aliens and unicorns included) were harmed in the making of this Holographic Stick.
It's cool because it looks like a stick of deodorant, so if you wanted rainbow-reflective armpits... well, it's possible.
MAC On and On Lipstick, $25, Amazon
Now, for those of us with dark souls who still want to hop on the hologram trend, all hope isn't lost (only about 87 percent of it is).
MAC's On and On lipstick rocks a blue-green shimmer in the light, but it looks dark purple otherwise. This is great for all you goth aliens to wear while you try to convince your mom this isn't a phase.
Bite Beauty Opal Lip Gloss, $22, Sephora
Bite Beauty's Opal Lip Gloss is the perfect tube to keep in your bag in case your makeup for the day isn't holographic enough, and you feel like a failure.
You can literally slather it on top of pretty much any lip color to make it iridescent.
This is a necessity for all of us lipstick junkies out there who are trying to decide between paying rent this month or buying 15 new iridescent lipsticks.
FierceMagenta Lip Glosses, Etsy
OK, so maybe you are still going to buy 15 new lipsticks once you check out FierceMagenta on Etsy.
Yes, you'll actually have to suffer through a processing and shipping period before you dump these lipglosses all over your face, but the '80s pop star glow is totally worth the wait.
Pat McGrath Skin Fetish 003 Kit, $72, Amazon
Pat McGrath, makeup queen of glitter, metal and wonder, has yet to let us down when it comes to, well, glitter, metal and wonder.
The Skin Fetish 003 kit comes with either a pink or gold iridescent pigment, along with a highlighter stick and brush to, you know, brush this glitter magic all over your face and even your dog maybe. (I don't know your life.)
Urban Decay Heavy Metal Glitter Eyeliner, $35, Amazon
Urban Decay is always on top of the more outrageous trends, and it certainly hasn't left iridescent glitter eyeliner behind.
Luckily, this goopy glitter will transform your face into an actual hologram and not blind you or glue your eyes shut like craft glitter glue will. (Desperate times, man. Desperate times.)
Too Faced La Creme Color Drenched Lip Cream, $19, Amazon
OBVIOUSLY, all alien unicorns cry unicorn tears and then wear it on their lips.
Be cautious of going too crazy with Too Faced's Unicorn Tears lipstick. Voldemort might mistake you for a real unicorn and kill you so he can drink your blood... even though he's dead.
IDK, IT COULD HAPPEN.
MAC Blue Brown Pigment, $40, Amazon
Here's another treat for all you dark souls out there. Smudge this pigment all over your eyes for a smoky, "I've been dead for 10 years" look.
You'll still get the rainbow glow, but people definitely won't mistake you for being happy and cheery with a zest for life (gross).