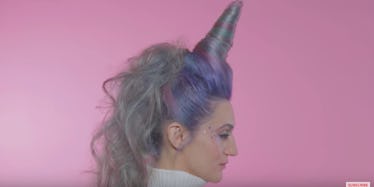 This Unicorn Hair Tutorial Features An Actual Horn, So Get Ready To Commit
YouTube
Blondes really do have more fun -- but I'd argue that's only because they can easily dye their hair insane colors whenever inspiration strikes.
Even so, I'm personal proof that you can buy some bleach and Manic Panic at Ricky's and do the job yourself with darker hair. That is, if you're brave enough.
But true bravery takes on a whole new meaning when it comes to the model who decided to be the guinea pig for this insane unicorn hair tutorial.
Recently we've seen unicorns make their way into every food trend under the sun. There are unicorn macarons and unicorn hot chocolate, to name a few.
And now, like clockwork, there's unicorn hair. For me, unicorn hair would be considered cool if it was merely rainbow streaks highlighting an otherwise dull mane, but this tutorial takes it to another level.
The Turnt Beauty video begins with highlighting grey hair with pink, blue and purple strands.
But then the artist takes it a step further and literally adds a styrofoam cone to the model's head. She also adds a full head of curls to create volume.
This reminds of me of "bad hair day" in elementary school, when girls would stuff water bottles into their ponytails to emulate a Cindy Lou-Who type vibe.
Oh... no one else did that growing up? Weird...
Anyway, the hairstylist pins a cone on the model's head and then wraps the hair around the cone, and pins it once more. The stylist then creates two ponytails underneath the cone.
Once she has the two curly ponytails in place, she teases them upwards, and pins them under, to create the illusion of a full and thick horse mane.
The final product is nothing short of magical, and for better or worse, the model actually resembles a "real" unicorn.
Cheers to using bizarre beauty tricks to emulate mystical characters in your everyday life. AKA, the only way we know how to cope with the aftermath of 2016.
Citations: This Unicorn Hair Tutorial Is Truly One For The Books — VIDEO (Bustle)