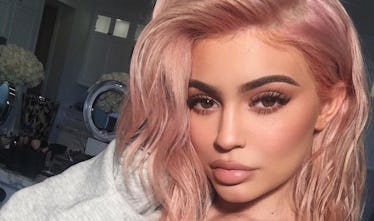 How To Copy Kylie Jenner's New Rose Gold Hair Even If You've Never Dyed Yours
Everywhere you look, rose gold is the wave.
In jewelry, in iPhones and even, thanks to Kylie Jenner, in hair color, we're seeing the pink-gold reign supreme over all those lesser metallics.
In 2015, we may have obsessed over premature granny hair, but these days the youngest Jenner is making her mark with a 'do that's somewhere between blonde and pastel pink.
The rose gold shade follows the platinum blonde Kylie wore throughout New York Fashion Week, in the style of big sis Kim's. She debuted the color on Snapchat (of course) and Instagram.
According to Gio Bargallo, colorist at the Rita Hazan Salon in New York City, the color differs from mermaid pink in subtle ways.
He calls the shade "futuristic," explaining,
Rose gold has a classic buttery, blonde undertone with a pink rose blush on top.
On Snapchat, Kylie revealed she hadn't really meant to become Marilyn Monroe blonde in the first place. Because she'd taken the year off, getting her hair extra healthy in preparation for a honey blonde color, the bleach lightened it too quickly and she ended up platinum.
Sounds like a case of bad hairdresser to me, King Kylie.
Bargallo agrees, saying going blonde too quickly weakens your hair on a strand level and destroys its ability to hold color.
He says,
You should gradually go through the multiple shades of blonde, while in between, conditioning the hair for future lightening, until you achieve the perfect platinum, pastel blonde.
If that's the case, then how is Kylie managing to keep her rose gold? Well, I have a theory that this shade may be yet another wig by Kardashian hair genie Tokyo Stylez.
He 'grammed a photo of Kylie's new look, tagging and thanking a brand called Hair Are Us, which later posted a photo referencing "Russian blonde 24" colored" hair.
As you might've been able to glean from the name, the company exclusively sells virgin hair. Wouldn't be the first time one of these ladies had us fooled.
But, if you're looking to try the rose gold shade yourself, don't be discouraged.
Wigs aside, Bargallo recommends beginning regular conditioning treatments now to prepare your hair for bleach (he loves Rita Hazan's Weekly Remedy). It's also important to understand it'll probably take you more than one treatment to hit that Michael Kors rose gold you're looking for.
A few days before your hair appointment, back away from the shampoo completely.
Then, Bargallo recommends hitting the bleach (and Olaplex) hard.
He continues,
The hair can have some gold in it, to ensure a gold undertone under the rose blush... After hair is at the desired blonde shade, I would create a mixture of pink blushes and golden, peachy hues to make the perfect shade of rose gold.
And just like that, you're Kylie. Now, we'll just have to see how long she actually keeps the color.