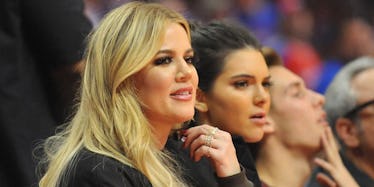 How The Kardashians Dye Their Hair On The Reg Without Going Bald
Gary A. Vasquez-USA TODAY Sports
I'm not usually chatty when I'm in the salon chair. This time was different, mostly because my stylist and I were discussing something vital: Kim Kardashian's hair.
Only a couple of days before, Kim Kardashian debuted her long platinum locks at Yeezy's Fashion Week show. I was obsessed.
As a fellow hair dye junkie, I was even more entranced by just how good her hair looked. Sure, it was a wig, a good wig. But, remember when she really dyed her hair for Paris Fashion Week last year? That sh*t was real.
Similarly, look at Khloe and Kylie. Kylie alternates between wigs and real dye, whereas Khloe's naturally dark locks have lightened over time to a beautiful honey blonde. Seriously, how does their hair look good after so much bleach? I was a platinum blonde for two years and I'm still putting my hair through rehab for all that abuse.
I touched base with Tracey Cunningham, celebrity colorist at Redken and co-owner of Meche Salon in Los Angeles. Really, I needed someone to tell me I can dye my hair all the time and have it look as good as Khloe's.
So, naturally, that's not what happened. Instead, I got a few expert secrets to getting (and keeping) hair colored as perfectly as those Kardashian manes.
How damaging is bleach and dye?
"No matter the type of hair color, or whether it's an all-over application or just highlights, hair is a delicate fiber and can easily over-process," Cunningham explains.
However, damage isn't necessarily a bad thing.
"Having a little bit of damage will actually give you texture and more volume," Maddison Cave, stylist and colorist at Rita Hazan Salon, adds.
I already dyed my hair. How can I take care of it at home?
The key is sticking to products that are good for your hair. Cunningham advises using sulfate-free formulas (like Redken Color Extend Magnetics or Blonde Idol for the flaxen-haired), while avoiding both chlorine and heat styling. Drop that blowdryer.
Cave also recommends waiting at least 24 hours to wash your hair post-dye, giving the color time to settle while the cuticle to fully closes.
My hair still feels super dry! Help!
No matter how much R&R you try to give your locks after a dye job, they can still feel a little defeated. Time to break out the big guns. Cunningham recommends using a fortifying mask to condition and strengthen. An oil can also bring back some of that shine.
On top of that, try to step away from daily shampooing. Shampoos, Cave explains, strip the hair of color and natural oils.
"If you are working out or just feeling too oily, you can rinse your hair and scrub your scalp with a light conditioner and that will help redistribute the oils in your hair and make you feel cleaner," Cave says.
I'm afraid of fade. How can I keep my color looking like I just walked out of a salon?
There are several tricks you can employ. For one, it's important to protect your hair from the sun the same way you do your skin. Instead of lathering it in sunscreen (ew), opt for a conditioner. Cave recommends wetting, conditioning and tying your hair up before a day at the beach or pool.
Additionally, if you must heat style, be sure to use a heat protectant to shield the hair. No need to go for 450-degree heat -- it's a blow-dryer, not a blowtorch.
"Using a lower heat setting on the hot tools is a great tip for lighter and more fragile blondes," Cunningham says.
How do the Kardashians dye their hair so much and still have it look so healthy?
The Kardashians dye their hair constantly, whether it's for events, a seasonal change or Coachella. It's mind-boggling that their hair always looks healthy after each single or double-process. How?
According to Cunningham, the trick is remembering to be patient. This isn't a one-shot job.
"Going from dark to light requires a lot of maintenance. To get Khloe her ideal blonde shade, it took three highlight procedures over the course of several weeks using Redken Flash Lift and Olaplex," she explains.
Additionally, keep in mind that celebrities have teams of people helping them look good. That healthy hair is the product of stylists and fancy tools.
"Celebrities are working with the best colorists and stylists that know these tricks," Cave says, adding that many also sport wigs and extensions.
"It's also important to keep in mind they have their hair professionally blown out and styled most of the time, and there is always a village behind every celebrity's look," she adds.
In short, whether you're a Kardashian or not, there are ways to take care of your dyed locks to help them retain their health.
Or, you can hire a village to do it for you. I prefer that route.