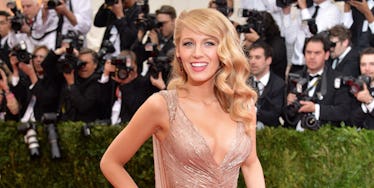 How To Find The Right Shade Of Blonde, Based On Your Favorite Celebrity
Getty Images
In my journey from black-brown hair to platinum, I've had to stop at every shade in-between.
In my time, I've worn a dark blonde, a honey blonde, a strawberry blonde, a slightly-too-orange blonde and, finally, an icy platinum blonde. Then, I went gray, but that's a story for a different day.
My quest to have the perfect Queen Elsa shade of blonde hair has taught me a fair bit about what it means to become a blonde. Not all skin tones are suited for every shade, and even  concept like "honey blonde" can vary from colorist to colorist.
It's hard to articulate exactly what shade we want, so we bring photos of models and celebrities to make our vision crystal clear. The thing is, photos don't tell the whole hair-color tale.
For some much-needed insight, I got in touch with Meri Kate O'Connor, senior colorist at Eva Scrivo Salons; Corinne Adams, senior colorist at Serge Normant at John Frieda; and Joyce Gallagher, Cutler/Redken salon colorist.
Are you dying to dye your hair like your favorite blonde-bombshell celeb? You should know a few things, first.
Gwen Stefani fans need cool tones to begin with.
Best for: "Cooler skin tones," Gallagher explains of Gwen's platinum blonde hair.
To figure out which undertones your skin has, look at the veins on the inside of your wrist. If they're greenish, your skin has a warm tint. If they're more blue, however, you're cool.
Ask for: Specify that you aren't looking for a golden shade -- keep it icy, like Elsa.
"Also, ask [the stylist] if they use Olaplex or Brazilian bond builder, to avoid any damage to your hair," Adams says.
Olaplex reconnects the broken bonds in your hair caused by chemical or thermal services (think bleach). Brazilian bond builder does the same thing, helping with color longevity.
Pro tip: Adams loves Christophe Robin products, specifically the regenerating mask. Shimmer Lights purple shampoo is also a must-have, as long as it's mixed with water so "it doesn't grab on to the hair too much."
If it's not your first time going blonde, you probably know all about Shimmer Lights; if not, get ready to join the party.
Shimmer Lights purple shampoo is made by blonde gods to keep brassiness (read: that gross orange-y yellow your blonde hair turns if you don't take care of it) at bay. The purple counteracts the yellow and orange tones in your hair because they're on opposite ends of the color wheel. Hair science!
Ellie Goulding's all about that ash.
Best for: Light and medium skin tones, Gallagher says.
Ask for: O'Connor recommends telling your stylist you want "an ashy blonde base with bright face-framing highlights."
"It's almost solid blonde with minimal dimension," Gallagher adds. "[It's] heavily foiled with root shadow, meaning a lot of natural hair color is exposed at the root and that creates depth near the hairline."
Pro tip: O'Connor asks that all her clients bring in reference photos.
"Celebrities tend to change their color quite frequently," she says. "So you want to make sure you and your client are discussing the same color."
Blake Lively's locks are a California dream.
Best for: "Light, golden skin tones," Gallagher says.
Ask for: Babylights, as opposed to highlights, according to Adams. The technique brings out the light in your hair, making it look natural.
When asking your stylist for Blake's locks, be sure to place emphasis on the golden "California" blonde hair, O'Connor explains.
Pro tip: O'Connor cautions against using styling tools on blonde hair, as the heat can cause hair to oxidize faster and leave it a warmer hue than you intended.
Gigi Hadid is the ultimate dirty blonde.
Best for: "Light, medium skin tones and blue-eyed girls," Gallagher says.
Ask for: Mention Hadid's dark blonde base and lighter golden highlights, O'Connor advises.
Gallagher agrees. "There's soft, professional-quality hair painting with a shadowed root. There are ribbons of color that move through the hair," she says.
Pro tip: "The lighter the blonde, the more careful you must be when using purple shampoo," O'Connor cautions. "Too much too often can give the hair a purple tint."
Start off with a pea-sized amount and mix it in with your current shampoo.
Khloe Kardashian's hair goes for the gold.
Best for: Warm, golden skin, Gallagher says.
Ask for: "Ask for lots of highlights to blend your base and even it out to create a more uniformed honey blonde," Adams says.
Pro tip: As with all blondes, O'Connor recommends not washing your hair often ("only two to three times a week, depending on how oily your hair and scalp get"). The more you wash, the more you strip your color away. Try not to go heavy-handed on the shampoo, either, because it'll wash out the glaze.
"Your natural sebums and oils will help coat and condition your hair if it's fragile," O'Connor explains.
Lauren Conrad is all about the subtle ombre.
Best for: You. It's a win for most skin tones.
Ask for: Gallagher describes LC's hair as "beachy, ombre-d highlights, not dip dyed."
O'Connor agrees, calling the designer's hair a "subtle ombre, a 'sombre'."
Take care: A weekly deep-conditioning masque like Pureology's Hydra-Whip Masque will lock in hydration, O'Connor says.
Jennifer Aniston's shade is more brown than blonde.
Best for: Most skin tones.
Ask for: O'Connor says that the actress' base is more of a light brown, with golden blonde highlights.
Take care: Adams cites a '70s trend this season, which contributes to the more natural blonde shades we've been seeing.
"[The dye] should blend with your natural color even if you are going for a much lighter color," Adams explains. "Hair should look very shiny and healthy."