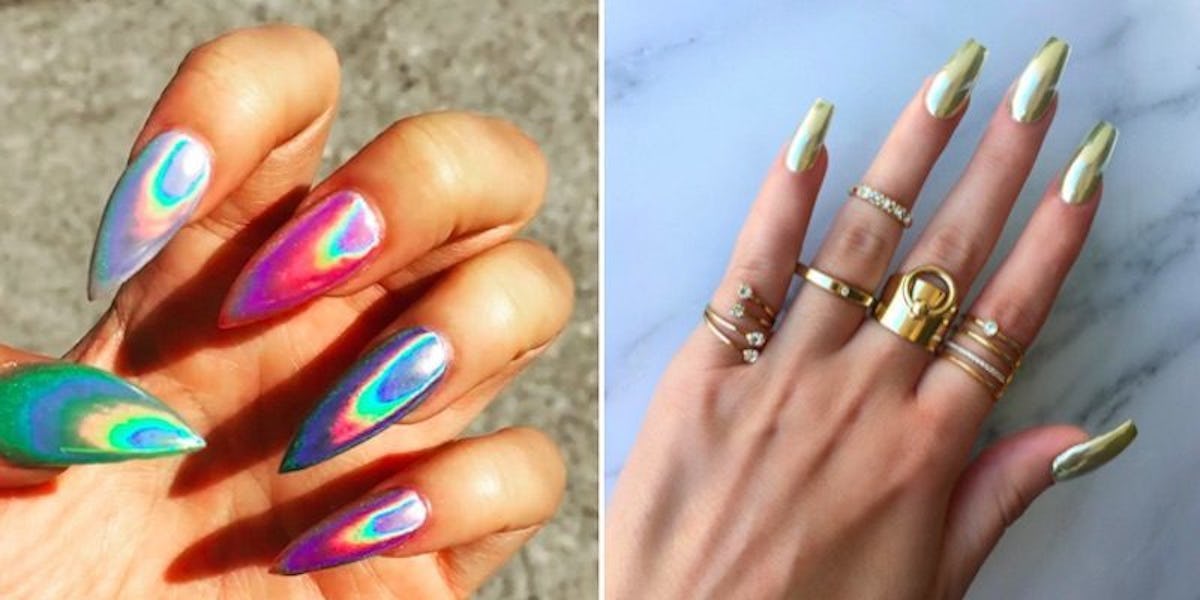 Holographic Nails Are The Beauty Trend You Need To Try Before Summer Ends
New and interesting beauty trends are constantly emerging.
If you're looking to revamp your style with a summer nail trend, you could spend the next three hours painting a 100-layer polish mountain on your nails.
Or if you're not really down to disfigure your fingers with globs of polish, you can try the latest trend taking social media by storm.
That's right, we just found a new futuristic manicure fad that's sure to take your nails to the next level.
Behold: holographic nails.
Beauty bloggers seem to be pretty obsessed with shiny polish at the moment, and it's not hard to see why: This avant-garde nail art look like something straight out of "Star Trek."
Whether you go for a flashy french mani, dip your digits in space age designs or opt for a metallic manicure that's simply out of this world, you're pretty much guaranteed to get hella compliments with these holographic gel manicures.
Take a look at the pictures below to see this eye-catching beauty craze:
Holographic nails are the newest trend taking over the beauty scene...
...and tons of women are wearing all sorts of space age manicures.
Take a look at these futuristic fingernails.
It's not hard to see why these radiant nails are all the rage.
These dazzling holographic designs looks dope AF...
...and there's an endless amount of ways you can rock this super shiny style.
So far, we've seen everything from heavy metal holographic nails...
And reflective rainbow renditions...
...to gilded claws that could definitely be from a galaxy far, far away.
If you're looking to get in on this avant-garde nail art...
...all you need to achieve this look is some gel polish and a special metallic powder.
So yeah, there's basically nothing stopping you from making heads turn with these 21st century tips.
Citations: Beauty Bloggers Are Obsessing Over Holographic Nails Right Now (Glamour)