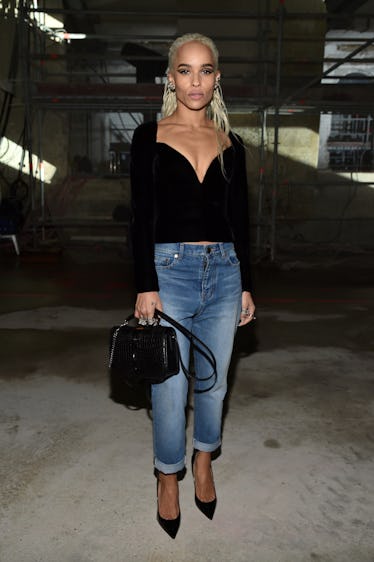 5 New Year's Eve Outfits With Jeans If You're Not Into Freezing In A Dress
Pascal Le Segretain/Getty Images Entertainment/Getty Images
If you live somewhere where the temperature drops below 55 degrees during the winter, then you know the perils that come with cold weather party dressing. Rather than searching for leg-baring minis to freeze your a** off in this year, why not consider New Year's Eve outfits with jeans? I promise, they're no less festive and can still bring enough shimmer, shine, and sexiness to have all of the shivering girls at the bar, clurb, house party — wherever! — wishing they'd followed suit.
I've spent my last four New Year's Eves in New York City (aka the most over-the-top place on earth when it comes to going-out clothing) and have worn black or blue denim pants on every single occasion. To me, watching my legs mutate into alarmingly blotchy cherry popsicles is not worth wearing a skirt or dress. Because you know what? There are plenty of super hot tops, killer shoes, and statement earrings that equally turn heads, even when when worn with jeans. Avoiding frostbite on New Year's Eve? That should be a resolution every year.
Whether you're into a more playful aesthetic (think bold colors and eye-popping embroidery) or prefer a sleek, glamorous look (silks and crystalline jewelry might be at its crux), I guarantee you it can be effortlessly anchored in jeans. I picked out a few of my favorite tops and corresponding accessories for every style below to help you get a head start on building your perfect NYE outfit. Don't stress about the task too much: since you likely own jeans, you already have it half figured out. Wink wink.
Silver Linings
Glittery silver is the quintessential look when it comes to New Year's Eve. This sequined long sleeve crop top fits the bill, and will help keep you warm.
If done right, silver on silver can make for an especially festive yet tasteful effect. These booties, which boast a metallic sheen, would look just as good with fitted black denim as they would with cuffed boyfriend denim jeans.
Red Hot
I love this shirt for so many reasons. It's dropped neckline and cropped silhouette are super sexy, while its big billowy sleeves render it slightly bohemian. I'd pair it with a shimmery gold bralette to match the necklace below.
Whenever I wear a shirt with a plunging neckline, I opt for a drop necklace. This lariat version has shorter strands of delicate gold that sit closer to the neck, before it drops down into a statement strand of glitzy charms. It's the perfect sultry NYE piece if full-on glitz isn't your thing.
Ice Queen
Two words: winter white. This is my dream off-the-shoulder top for a myriad of reasons: I love its puffed shoulders, corset bodice, and sweetheart neckline. I'd wear it with relaxed, light wash denim to balance out the sweetness.
Add a choker into the mix and the above top becomes instantly glamorous. (I love a choker with a sweetheart neckline!) This particular one is dripping in gemstones, which makes it ideal for the bling-iest night of the year.
Shimmy & Shine
This top is a party in clothing form. Its angled layers of fringe give it a cool striped effect and I love its asymmetrical hemline. I can imagine dancing in this all night long...
Pair the fringy top with these shoes to add a bit of glitter. Show me a more playful duo, I dare you.
Going For Gold
2017 was the year when chainmail everything had a major revival. This top is reminiscent of Paris Hilton's 21st birthday dress, which Kendall Jenner also brought back for her own 21st birthday earlier this year, so you know "it's hot." As pictured above, it looks incredible with denim mom jeans. Who would've thought?
Go big or go home, right? These oversized gold star earrings would look stellar (haha) with the chainmail top. Done and done, now all you have to do is impress everyone with your dance moves.