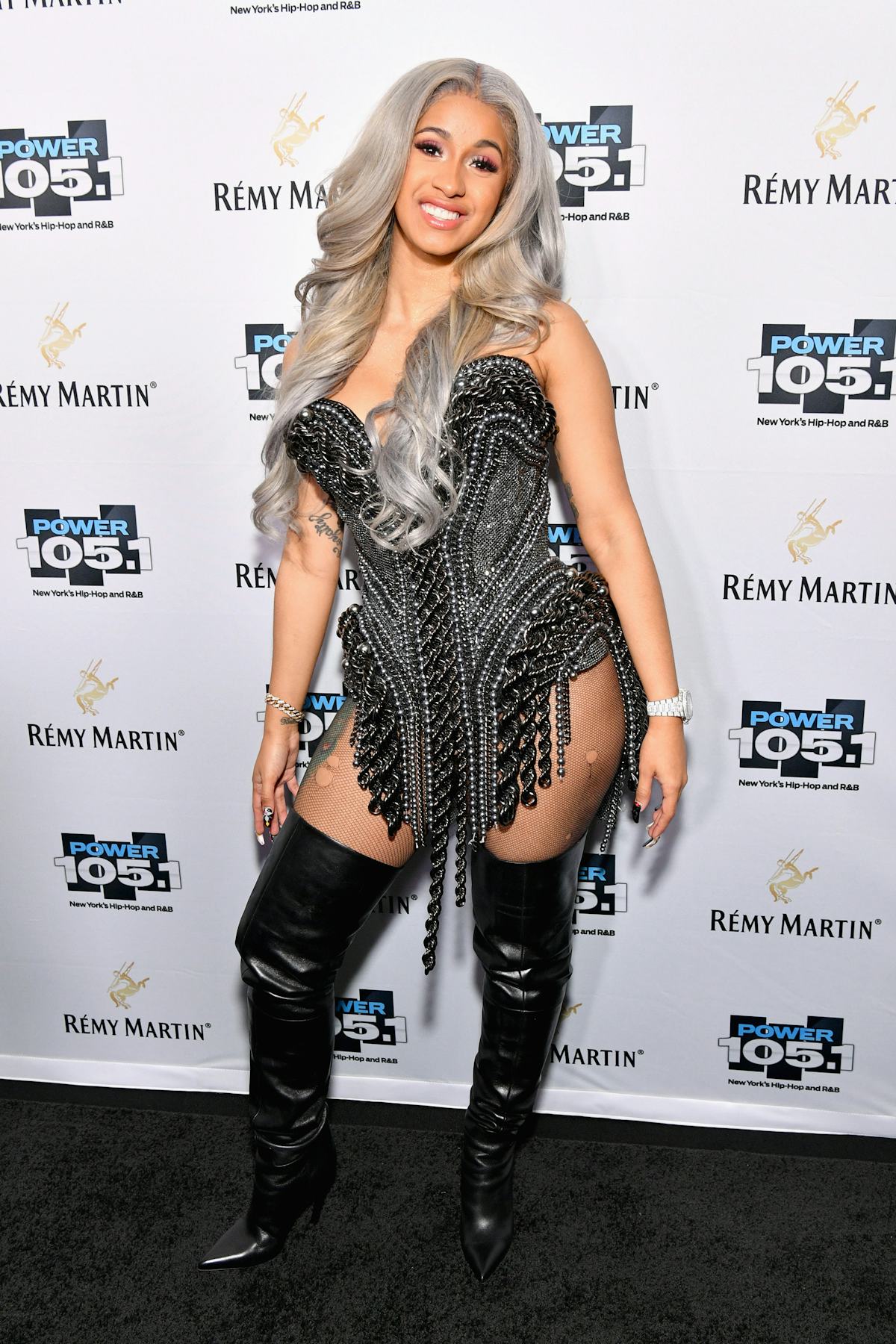 The Most Extra New Year's Eve Looks From Fashion Nova, Cardi B's Favorite Brand
Dia Dipasupil/Getty Images Entertainment/Getty Images
New Year's Eve is the holiday where it's pretty much impossible to be overdressed. The sparkliest outfits come out of the woodwork, but the glitz doesn't have to be worth so much cash. These affordable Fashion Nova outfits for New Year's Eve will make sure you're the best-dressed well after the ball drops — with money leftover for your Uber home.
In case you haven't heard, Fashion Nova is one of the buzziest fashion brands of the year. Best-selling musical artist Cardi B is a huge fan of Fashion Nova, and while the rapper made it big with "Bodak Yellow," she sticks to her more frugal roots while providing on fleek fashion inspo. The Bronx-native posted about her go-to brand Fashion Nova on Instagram way before she was likely sought after for #ad posts, and she's still doing it. You, too, can shop at Fashion Nova and channel the vibes of a bad*ss bombshell, and what better day of the year than New Year's Eve?
You may be undecided on the direction of your NYE get-up, and that's no issue. Fashion Nova makes everything from velour sweatsuits to sequined gowns, and almost everything is way under $100. Sounds like the perfect recipe for a one stop New Years Eve shop. So sit back, blast some Bodak, and prepare to be inspired.
Ruffles & Red
Serafina Ruffle Dress in Black ($40; fashionnova.com)
Cardi B wore this exact dress in an Instagram post and those sleeves are so beautiful and dramatic, I can't. Wear it to your friends' New Year's Eve cocktail-attire parties.
Aye Bae Over The Knee Boot in Red ($45; fashionnova.com)
Cardi B paired the dress with these fire over-the-knee boots. New Years Eve dressing is usually all about the sparkle but this outfit is red hot, literally, and you'll stand out in the best way.
Velvet Plunge
Galant Velvet Dress in Burgundy ($33; fashionnova.com)
Drop. Dead. Gorgeous. And if you're wondering how to accessorize, just look to Cardi B.
Kamilla Heel In Black ($25; fashionnova.com)
Simple black stilettos are timeless, and you'll wear them again and again. Game over.
Aina Earrings in Silver ($4; fashionnova.com)
Add these earrings for some extra glam. You're officially gala-ready for a total of $62.
Ball Drop
Expose Sequin Dress in Rose Gold ($40; fashionnova.com)
If you want to be more glitzy this New Year's Eve, this dress practically makes it look like you were dipped in a vat of gold.
Stella Zip Up Heel in Rose Gold ($35; fashionnova.com)
I say let's keep the gold theme going and kill it in these metallic heels, too.
The Best Surprise Crossbody in Black Glitter ($20; fashionnova.com)
This bag does double duty as a cross-body and clutch, basically two bags for the price of one, and that price is $20. Done deal.
Skin-Tight Jeans & A Cute Top
After The Party Zip Crop Top in Red ($25; fashionnova.com)
When Cardi B sported this particular outfit, it inspired quite the Twitter-storm, but in the end everyone agreed that she rocked it. For a casual house party this New Year's eve, this zip-up strapless top is just as hawt as Cardi's.
Super High Waist Denim Skinnies in Indigo ($30; fashionnova.com)
Cardi claims that Fashion Nova "FITS MY BODY LIKE A F*CKING GLOVEEE!!!" Please note that I censored that curse word because my girl Cardi would never, but that's why I love her.
Aleeza Bootie in Red ($35; fashionnova.com)
While Cardi B's boots are from Balenciaga and ring in at $895, Fashion Nova has a similar pair that will match your new top and only set you back $35.
Fashion Nova finds its way into many an Instagram #ad, but Cardi B seems to genuinely stand behind the affordable label and I'm into it. The brand is perfect for glitzy nights like New Years Eve and I've just given you plenty of outfit inspiration so what are you waiting for? Go, shop!