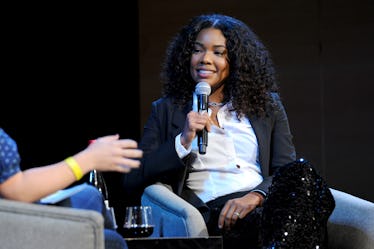 Gabrielle Union Spoke Out On The Tristan Thompson Drama & It's Super Straightforward
Craig Barritt/Getty Images Entertainment/Getty Images
Gabrielle Union wants you to keep her name out of her mouth when it comes to drama. Amid all the scandal that's currently going down in the Kardashian household, Gabrielle Union's comment about the Tristan Thompson cheating reports is shutting this all down. Get it, Gabrielle.
In case you've taken a total hiatus from all things social media lately, you've probably heard about the photos and videos that surfaced on April 10 showing NBA star Tristan Thompson allegedly getting up close and personal with a mysterious woman that's clearly not his pregnant girlfriend, Khloé Kardashian. (Elite Daily reached out to both Kardashian's and Thompson's press teams for comment on the cheating reports, but didn't hear back.) Then, just to add fuel to the fire, The Shade Room posted a few Instagrams of Thompson reportedly with the mystery woman, but one of them featured a special somebody. In one of the photos, actress Gabrielle Union was seen behind the mystery woman, so naturally The Shade Room hinted that Union might know something about Thompson's alleged infidelity.
The Shade Room wrote,
Meanwhile, #GabrielleUnion was spotted minding her business in the background of the footage of #TristanThirdTrimesterThompson & his side piece, but inquiring minds want to know--What's the tea sis? 👀👀
You can stop right there Shade Room, because Gabrielle Union is having no part of this drama. In fact, she even went so far as to personally comment on the Instagram post, and shut down the insinuation.
Union wrote,
Don't know her. Didn't see her. I was enjoying my night with my mama and aunt. We ain't involved in this.
Yasss Gabrielle, shut those haters down.
It wouldn't be Kardashian drama if the entire world wasn't involved, but the NBA player actually hasn't addressed the allegations yet. Instead, Thompson returned to the basketball court on April 11 to play in the Cleveland Cavaliers' final home game, and was apparently met with an ovation of jeers and boos from the crowd.
Even amid the drama, Thompson was reportedly with Khloé while she gave birth to her daughter on April 12. However, that hasn't stopped fans from literally tearing him to shreds.
It may be brutal, but after hearing about the heartbreak Khloé is reportedly going through, I feel like throwing a jab or two at the NBA player myself.
On April 11, a source told E! News that the Kardashian is allegedly "distraught" after hearing about Thompson's cheating allegations.
Her entire world has been turned upside down. She cried hysterically all night. She begged to come back to L.A. and tried to find any way to make it work but her doctor wouldn't let her. She just wants to be with her family and leave as soon as possible. Kris is there and completely supporting her. She will obviously never be able to trust Tristan again or look at him the same way ... Her world is shattered. She is in complete disbelief that this is happening. The family absolutely believes it's in Khloe's best interest to end the relationship but will support her either way.
My entire world has been turned upside down that Khloé's world is upside down. She definitely doesn't deserve this heartbreak.
Doesn't Thompson know that if you mess with a Kardashian you basically mess with the entire universe? Since the allegations surfaced, fans have taken to Instagram to troll Thompson mercilessly. Most of the trolling comments revolve around Thompson being punished by momager Kris Jenner, but there are some remarks that I wouldn't even wish on my worst enemy.
Twitter user @yoncessnack commented, "I hope solange gets stuck with you in an elevator."
Or, @spamaccsx who said "hope every time you go to McDonalds the ice cream machine be broken."
I'm actually quaking in fear, but I'm sure that's nothing compared to what the Kardashian girls might have in mind.
This might just be the beginning of this Kardashian saga, but you can apparently keep Gabrielle Union's name out of the conversation.