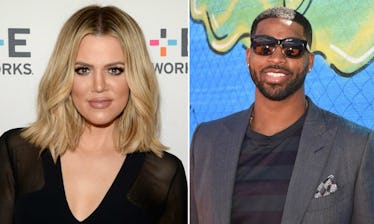 Khloé Kardashian's Fans Are Trolling Tristan Thompson In His Instagram Comments
CHRIS WEEKS/KEVIN WINTER/GETTY IMAGES ENTERTAINMENT/GETTY IMAGES
Khloé Kardashian's fans are not happy about the rumors that Tristan Thompson allegedly cheated on the reality star. The NBA player, who just welcomed a daughter with Kardashian, was recently spotted chatting with and allegedly kissing a young woman. And fans are going wild on social media over it. In fact, a crazy amount of comments on Tristan Thompson's latest Instagram are trolling the NBA star. Yikes!
Thompson has been on the receiving end of lots of backlash since Tuesday April 10, when The Daily Mail published a report that alleged Thompson was cheating on Kardashian. Included in the report was a video of Thompson looking more than cozy with pretty brunette. While the cheating itself has been unconfirmed, lots of people, including fans and model Amber Rose, are chiming in and voicing concerns over the relationship. Elite Daily reached out to Kardashian and Thompson's teams regarding the report but did not hear back by the time of publication.
Hopefully, Thompson was prepared for the onslaught of negative comments because Kardashian's fans are not playing around. Like, at all. They're going hard for Kardashian and there's really no slowing them down at this point.
But, honestly, can you blame them? The guy allegedly cheated on his woman while she was nine months pregnant with their daughter. So, yeah, fans are angry and they're doing all they can to stick it to Thompson. Because that's what Kardashian stans do.
Seriously, though, check out his latest Instagram post. He's sporting Ferragamo sunglasses and acting like there's nothing getting him down, even amidst this cheating scandal. I'm not sure what you call that. Confidence? A sign of innocence? Maybe he's just trying to ignore his haters and focus on the positives… like the fact that he's just welcoming a brand new baby daughter into his life.
There's fans, like @roseixabberton, who just say what feels right: "You play pregnant women better than you play basketball."
Kind of harsh, especially since there's been no direct acknowledgment or confirmation of the allegations, but I see where they're going with it.
Other Insta users are being super vocal about what they hope Kris Jenner does once she gets her hands on Thompson and his career.
Like @brigurl3 who said, "Kris Jenner's plotting your downfall and honestly I can't wait"
Other fans are genuinely upset that Thompson may have strayed outside his relationship with Kardashian. Like @yoncessnack who commented, "I hope solange gets stuck with you in an elevator."
But the real trolling crops up in comments were fans hoping that small but infuriating occurrences plague Thompson for the rest of his days.
User @spamaccsx hopes Thompson never gets ice cream: "hope every time you go to McDonalds the ice cream machine be broken."
Meanwhile, @sophcos delivered a brutal one: "i hope your crying face is uglier than kim's."
Oof.
The entire thread of comments on that one post provides enough entertainment to last several hours. There's so many "I hope" and #TeamKhloe posts that Thompson has to know by now that he's in for a ride if he doesn't clear up those rumors once and for all.
Whether he cheated or not, Thompson is still the father of Kardashian's baby, so let's hope he steps up and does right by his woman and their baby. Thompson seems to love being a parent to his other child with his ex, Jordan Craig, so I feel pretty confident that he's going to be as solid dad for the mini Kardashian-Thompson.
Even still, I hope this whole fan-trolling debacle is a lesson to never mess with a Kardashian. They literally have a whole tribe behind them that'll go to bat on their behalf when need be. Nevermind the fact that there's ruthless momager Kris Jenner to deal with. She'll come for you if you mess with her kids; that much we know.