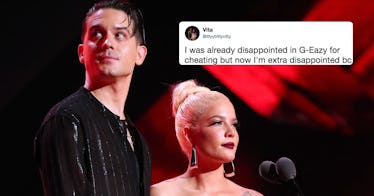 G-Eazy's First Music Video Since Breaking Up With Halsey Throws So Much Shade At An Ex
Christopher Polk/Getty Images Entertainment/Getty Images
It's been a tricky time for Halsey and G-Eazy fans. Their followers have been mourning their relationship and simultaneously trying to get to the bottom of what the hell went so wrong. After rumors began circulating suggesting G-Eazy might have cheated on Halsey, everyone is paying just a little closer attention to his moves. For example, he just released his first music video since the breakup for his song "Power" and fans wonder if there are actually some hidden innuendos here. To be frank, G-Eazy's "Power" lyrics clearly throw shade at an ex and folks are wondering if he's trying to send Halsey a message.
Technically, "Power" came out in May, a whole two months before Halsey announced their breakup on Instagram. So, while the two artists weren't exes yet, it definitely seems suspect G-Eazy chose this song for his first music video since the split. The lyrics that have everyone so worked up are:
Off the medicine, goin' hella dumb / My b*tch got replaced when I found a better one
Hm, hm, hm. Are you trying to say you're on to the next one, G-Eazy? Fans definitely had some feelings about the lyrics:
Halsey started a round of cheating rumors when she posted a scissor emoji followed by the phrase "pumpkin eater" on Twitter in the days after their breakup announcement. She's since taken the scissors down, but fans were quick to draw the link to G-Eazy's lyrics in their collaboration song "Him & I" when he raps the words: "Ever catch me cheating, she would try to cut my [d*ck off.]" As for "pumpkin eater," people think this could be in reference to the old nursery rhyme phrase "Peter, Peter, pumpkin eater," often recited as "Cheater, cheater, pumpkin eater."
For these reasons, G-Eazy creating the "Power" music video looks like it could be a response to Halsey's cryptic tweets, and potentially confirming he has moved on to someone new. Elite Daily reached out to both Halsey and G-Eazy's teams for comment on the cheating rumors but did not hear back by the time of publication.
Of course, it's possible he filmed the video a long time ago, too, and just needed some lyrics that rhymed. Plus, the video isn't much to look at. It's mostly G-Eazy, Nef The Pharaoh, and P-Lo riding around on a boat. Sure, sure, there's dancing girls and stuff, but that's par for the course when it comes to rap videos. Take a look.
Halsey first announced their breakup on July 3 by posting the following message on Instagram:
I normally keep this kind of thing private but provided our public nature I feel the need to inform my fans. G-Eazy and I are taking some time apart. I'm eager to continue the upcoming passage of time dedicating myself to my art and my career, and the duration of my tour. I wish him the best. Thanks for respecting our privacy at this time.
It's only been a few weeks, but this breakup already has serious twists and turns. For now, fans are just keeping their eyes on Halsey and G-Eazy and hope to have more answers soon.
Check out the entire Gen Why series and other videos on Facebook and the Bustle app across Apple TV, Roku, and Amazon Fire TV.