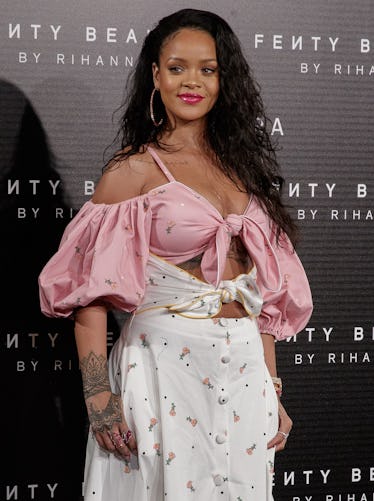 Fenty Beauty Black Friday Sale Rumors Will Absolutely Blow Your Mind
Eduardo Parra/Getty Images Entertainment/Getty Images
2017 will go down in history as the year Rihanna disrupted the beauty sphere in a way that only a true queen could. With the launch of Fenty Beauty, RiRi created a brand that's not only top-notch quality, but is also extremely inclusive. That's why the Fenty Beauty Black Friday sale rumors that have made their way onto social media have got me, and everyone else, absolutely shook.
I was searching for any intel on a post-Thanksgiving Fenty Beauty sale earlier today, when a discussion in "The Rihanna Forum" of Lipstick Alley caught my eye. It's called, "Rihanna & Fenty Beauty Might Be Coming For Your Black Friday & Xmas Coins. BE READY!"
Needless to say, I shamelessly dove head-first into the black hole that is internet forums. The discussion was started by user KanyesIcecream (ILY), who found their intel via Twitter. KanyesIcecream posted a series of tweets in which a user who goes by Shanta (@ShantaFabulous) reveals that she "heard more Fenty Beauty drops Black Friday AND day after Christmas." Jackpot.
In follow-up tweets, Shanta writes that she has no clue what the mystery products might be, and that she is "kicking herself" for not asking whether or not they would be limited-edition or part of the Fenty Beauty permanent collection. No offense, girl, but how could you let us down like that!?
I went to Shanta's Twitter page to see how she might have access to such insider information, and it turns out she is a pro beauty blogger and podcaster, so it's possible she has access to legit sources. In response to KanyesIcecream's post, another Lipstick Alley reader — user Swan — said, "I don't remember if it was on the Sephora Community boards or reddit, but someone said that Fenty planned to release products monthly until there is a full range collection. It wasn't confirmed and seemed kind of cray, so I didn't want to repeat it." I certainly have no way of confirming whether or not this glorious rumor is true, but don't mind repeating it. If it comes to fruition, then Fenty fans have so much to be thankful for this Thanksgiving. The brand's most recent release, the limited-edition holiday Galaxy Collection, did not disappoint, and we have a feeling that Rihanna is not about to let down her fans anytime soon.
Regardless of whether or not the Black Friday launch happens, don't forget that Rihanna is 100 percent dropping Fenty's Stunna Lip Paint on Thanksgiving Day. The universal lip paint's tagline is "One Red For All," it comes in an uber-chic bottle, and it looks incredible on literally everyone who's gotten to try it early. Take my money! Just take it.
A girl can't help but dream that, along with a new selection of products, Fenty might also be rolling out some massive sales on its existing offerings come Friday. (I wouldn't put it past RiRi to be the ultimate spreader of seasonal cheer.) If that were the case, this is what I'd indulge in.
Foundation For All
Fenty's record-breaking foundation comes in 40 shades, so you'll definitely find something to match your skin. As someone who has tried it out, I can personally attest that it doesn't feel cakey at all, and it hid my acne scars so well I barely even needed concealer. It rules.
To Get Lit This Holiday Season
This concealer/contour/highlight stick trio is everything you'll need to make your cheekbones pop and your skin look dewy. They're super portable, so they can be your secret weapons wherever and whenever. Plus, the magnetized cases click together to keep them from getting lost in your bag.
For Out-Of-This-World Eyes
Part of Fenty Beauty's limited-edition holiday collection, this palette features an array shimmery pigments that are an unforgettable party look in the making. For me, the true selling point came when I saw what Fenty's Galaxy palette looks like applied with just fingers, and I was in awe.
For A Gloss Boss
Fenty's epic lip gloss comes in one universal shade and leaves your lips shinier than a disco ball, so basically, it would make a perfect stocking stuffer for your BFF.