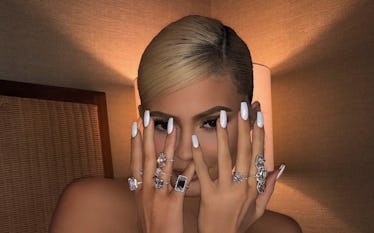 This Is Officially The Trendiest Nail Color For Fall & It'll Surprise You
Brown, dark greens and reds, orange, and other earth tones — those are typical fall colors. Whether you're talking about nature or fashion and beauty, that's a traditional autumnal color palette. This season, though, the fall 2018 nail trends are a little different.
The Old Testament of Fashion says not to wear white after Labor Day, but winter white has become acceptable, nay, encouraged. Beauty "rules" are sometimes a bit different than fashion, but white is still typically considered a summer color. It's 2018, though, and if there were ever a time to break the rules, it's now. And where better to get fashion and beauty inspo than from your favorite celebrities? The 2018 MTV VMAs were just a few days ago, and the red carpet looks were fierce. In addition to the jaw-dropping fashion, the celebrities in attendance basically set the tone for all of the trends you're about to see this fall. One of the biggest? White nails.
Everyone from Kylie Jenner to Blake Lively was rocking the white nail trend — and those two did it while also wearing white outfits, nonetheless. So how do you wear white nails for fall without looking like you're about to go on a beach vacation? Take a look at the trend for some top-notch inspo.
"When @lorraineschwartz comes and graces these long fingers," posted Jenner. Those are some seriously sparkly rings, but TBH, I'm looking at Jenner's nails. They're long, square, and slightly iridescent. I'm digging the shiny spin she put on her tips to make them a little more unique. Use China Glaze Nail Polish in Pearl Jammin' ($6; amazon.com) to get a similar look.
Jenner went full-on matchy-matchy with her white nails and white Tom Ford dress at the VMAs.
Blake Lively also wore white to the VMAs, and matched her look with her white manicure.
Lively's nails had a lot of detail to them, as shown by her nail artist.
To get Lively's manicure, her nail artist used Essie Nail Polish in Pearly White ($9; ulta.com) as a base color and Essie Nail Polish in Blanc ($9; ulta.com) for the geometric details. Mixing shades of white like this is a great way to get a cool, multidimensional look. Lively also has Essie Here To Stay Base Coat ($10; target.com) and Essie Speed Setter Top Coat ($9; target.com) on her nails.
Ariana Grande also rocked a white manicure, which paired nicely with her silver VMAs dress.
"~*A family affair*~ @arianagrande, @joangrande, and Nonna all wearing the cloudy sky nails by @natalieminerva," posted Grande's nail salon of choice. Not only did the singer have a white manicure, but she got matching nails with her mom and grandma!
Awww!
Shay Mitchell was another big name at the VMAs with white-hot nails. Mitchell's nail artist, Tom Bachik, revealed in his post that he used OPI Be There In A Prosecco Gel Polish (opi.com for salons).
Bachik also did Jennifer Lopez's nails for the VMAs, where he used OPI Infinite Shine 2 in Alpine Snow ($13; opi.com) underneath OPI Chrome Effects in Tin Man Can (opi.com for salons). J.Lo's silver-topped manicure is a sassy way to take white nails to the next level for sure.