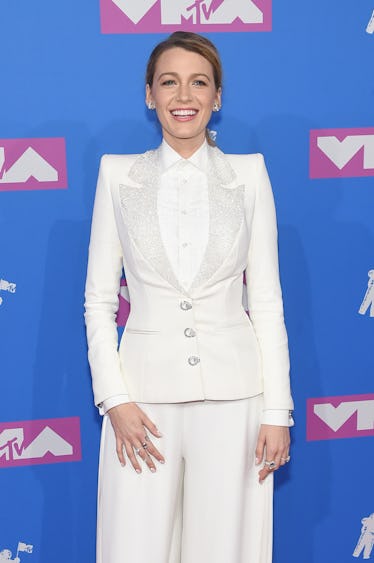 Blake Lively Looks Like The Most Heavenly Ringmaster On The VMAs Red Carpet
Jamie McCarthy/Getty Images Entertainment/Getty Images
OK, you guys, I don't make the rules, but I'm just here to say Blake Lively's look at the 2018 VMAs is the most fabulous ringmaster outfit you've ever seen. Her hair was pulled back into a simple, low ponytail, and makeup artist Kristofer Buckle created her fresh-faced beauty look. At this year's show, the former Gossip Girl actress will be a presenter, handing off trophies to the lucky winners of the night.
As for when the show gets rolling, Us Weekly reported Lively will be sitting stage right to enjoy the night's festivities, alongside fellow actress Anna Kendrick, as well as love birds Travis Scott and Kylie Jenner.
Lively has always been a well-respected actress in the fashion community, with most publications making note of the majority of her looks. So who does the stunning 30-year-old have to thank for her killer style? Herself. Yes, you read that right, Lively is her own stylist — but she admits it's "a lot of work."
"I love design and I love fashion and it's a way to be creative," she told WWD in March. "In my job I get to be creative, but it's over a period of time and so many other people are involved, whereas this is a beginning, middle and end, and I get to be creative and there's an end date in the near future. It's the same reason why I like doing my friends' hair and makeup or cooking — you get to be creative and finish it."
So what did Lively cook up for the 2018 VMAs?
Well, clearly it's her show, and we're all just watching it. Lively wore a tailored look from Ralph & Russo, featuring a white blazer with rhinestoned lapels and buttons and a button-up shirt with an invisible tie. She paired the top and blazer with a some super wide-leg culottes that got some serious movement as she walked the carpet. People also reported that Lively wore over $2.5 million and 60 carats of Lorraine Schwartz white diamonds, which included all of her rings and large stud earrings.
Lively has previously discussed the cons of being her own stylist: "The hard part is going through all the fashion shows and screenshotting all the looks you like and calling them in. I have an assistant who helps in calling in the looks," she admitted. "But a lot of it is I have relationships with the designers." I think it's safe to say that tonight, she absolutely rocked it.
Prior to the show, Lively offered an inside look at how she gets ready for big red carpet events, revealing that, for this big night, she and Buckle were using The Makeup Light. The actress swears her post is "Not an ad!" and that she genuinely loves the product, which provides professional-level lighting wherever you go.
While Lively may not be a regular staple at the VMAs, her fashion choices have definitely made an impact on the VMAs red carpet. Back in 2016, singer Tinashe rocked a similar version of the red Juan Carols Obando jumpsuit Lively wore to Cannes a few months prior. The artist altered her look to boast a discreet cut-out at the side, instead of using a belt.
Andreas Rentz/Getty Images Entertainment/Getty Images
Jamie McCarthy/Getty Images Entertainment/Getty Images
Needless to say, both women looked absolutely impeccable in the jumpsuit.
As far as this year's VMAs go, Lively absolutely commanded the red carpet, so for my sake, I hope she comes back to stun us once again for the 2019 show.