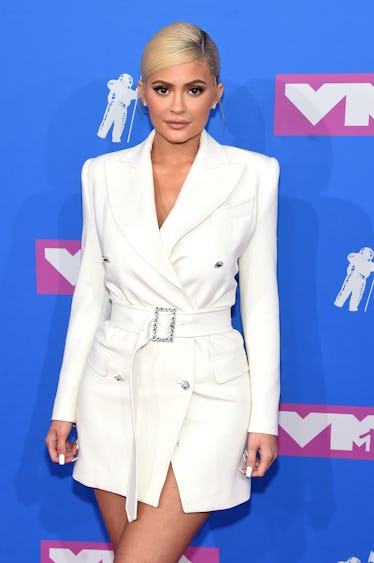 Kylie Jenner's VMAs Look Channeled Her "Self-Made" Billionaire Look From Her 'Forbes' Cover
Jamie McCarthy/Getty Images Entertainment/Getty Images
Kylie Jenner has a newborn baby and is on the gilded path toward becoming a literal billionaire, but she's still got time to support her boyfriend. The selfie queen is attending tonight's awards show with Travis Scott, and Kylie Jenner's 2018 VMAs look is fierce... not that you should have expected anything less.
Don't expect to see Jenner on stage performing tonight, but know that her boyfriend (and baby daddy to daughter Stormi Webster) Travis Scott will be performing at the VMAs, and Jenner will be there to support him. Scott is slated to perform from his new album Astroworld, and I'm just glad that means he'll be bringing Jenner with him. (Too bad Stormi won't be there.) Scott isn't nominated for any awards today as his album came out so recently, but, like I said, I'm just glad Jenner will be there.
Jenner is also preparing to go on tour with Scott and Stormi in the coming months, so hopefully that means more family photos. For now, though, I'll settle for a parents-only outing. Jenner and Scott's last big appearance together was at the 2018 Met Gala where they looked madly in love, and tonight's no different. Just different outfits, which brings me to Jenner's angelic #lewk.
Talk about boss b*tch vibes. Jenner wore a Tom Ford white trench minidress with an embellished crystal belt and matching gemstone Olgana Paris heels. Her hair was pulled back into a sleek bun with a deep side part. This look is super chic and it looks great on her, but I'm thinking it looks kind of familiar, too...?
It's basically the white version of her Forbes cover look! Same blazer-style outfit and side-part bun.
The beauty-maven is known to preview upcoming Kylie Cosmetics products on the red carpet, so I wouldn't be surprised if she's wearing some not-yet-released palettes. At least, I hope she is.
Jenner's blonde hair and white nails really drove the lighter look home, but her Lorraine Schwartz rings didn't hurt, either.
2015
It's actually been a few years since Jenner's attended the MTV VMAs. The youngest Kardashian-Jenner walked the carpet with her mother, Kris Jenner, and eldest sibling, Kourtney Kardashian, in 2015. Jenner wore an intricately woven Balmain mini-dress with matching shoes, and wore her hair (presumably a wig) in a '50s pin-up style.
Jenner kept her makeup relatively simple that year, assuring the focus was on her knockout dress.
Jenner's second look at the 2015 VMAs afterparty was another Balmain mini-dress, this one a strapless black cutout style.
2014
Jenner's very first VMA appearance was in 2014 with sisters Kendall Jenner and Kim Kardashian. The youngest Jenner wore a floor-length black Alexandre Vauthier gown, Gucci heels, Jennifer Fisher rings and earrings, in addition to a Giles & Brother necklace.
This was low-key one of Jenner's sexiest looks ever, IMHO. The dress wasn't all that revealing, but the draping with that black satin was on point – so sultry.
With the slicked back hair and blazer-inspired dress, though, this year's look was probably Jenner's most mature, yet.