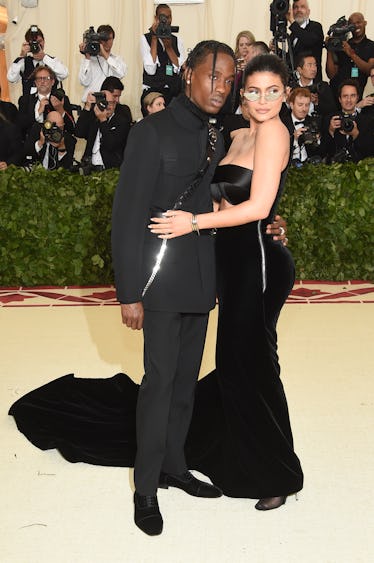 Kylie Jenner Opened Up About Her "Parents' Night Out" With Travis Scott At The Met Gala
Jamie McCarthy/Getty Images Entertainment/Getty Images
When you're a new parent, it's important to spend a night out on the town with your significant other. For some, that means dinner and a movie. For Kylie Jenner and Travis Scott, it means the 2018 Met Gala. Tomato, tomahto, right? The new parents looked absolutely incredible during their first red carpet debut after having Stormi, and this video of Kylie Jenner and Travis Scott talking about their big night out at the 2018 Met Gala is all kinds of adorable.
Let's take a quick second to appreciate their outfits, though, because they really nailed the theme this year, which was Heavenly Bodies: Fashion and the Catholic Imagination. Jenner, who wore an Alexander Wang black cutout gown and the most iconic shades I've ever seen, looked absolutely radiant. With minimal jewelry and simple, pulled-back hair, she let her gown really shine. Needless to say — huge fan of her look. And Travis Scott was complete arm candy, too. Also dressed in Alexander Wang, he wore black from head-to-toe and looked super polished. He was, however, wearing some kind of strappy, soldier-looking accessory across his chest (which I'm not sure served any real purpose), but needless to say, it just freaking worked.
Did Kylie Jenner and Travis Scott make their daughter Stormi proud on their first red carpet debut after having her? You bet your ass they did. Look at them!
If there was a "Coolest Parents Award" for 2018, they'd absolutely take home first place.
The rapper and the Keeping Up With The Kardashians star spoke with Vogue on the red carpet, talking about their first major event since Stormi's birth. When asked how the couple was doing, Jenner said, "Good! Parents' night out," then added that this was their "first real party" since having Stormi back in February.
When asked about their looks for the night, Jenner said, "We wanted to go with something more simple, edgy, young, so that's exactly what we did."
Yup, yup, you crushed it, girl.
And Jenner also told Vogue that we should expect the tradition of the Kardashain-Jenner selfie to uphold this year, too. When asked if there was anything being planned for the night, Jenner said, "Hopefully a bathroom selfie, another epic bathroom selfie, and just all of us having fun."
It's my personal believe that any new parent is totally deserving of vibing for a few hours. That's why babysitters were invented, duh.
You can watch the interview below, and I seriously just love how happy Kylie looks throughout the whole thing:
In case you're wondering how Stormi is doing, she recently celebrated three months on Planet Earth, and Jenner posted what is possibly the cutest picture of a baby to ever exist on Instagram.
She wrote, "my pretty girl is 3 months old today ✨," alongside an image of Stormi looking like an actual cherub sent from another world:
So not only are Kylie Jenner and Travis Scott the coolest parents, they also have the world's cutest baby. I swear, some couples get all the luck.
And, if you were wondering how Jenner's daughter got her name, it's actually a cute story. Kim Kardashian interviewed Kylie Jenner for Evening Standard magazine in May and asked how Jenner and Scott finally chose the perfect name. They initially decided on the name Storm, but it somehow evolved and "just stuck." She said:
Her dad insisted it was him, but I feel like it was me. And that kind of just stuck with us. And then I didn't really like just Storm — I didn't feel like that was her name. So then it became Stormi. And it just stuck. I feel like there were a lot of other names that I might have even liked better to be honest ... but I feel like Stormi picked her own name, like it was just her name.
Welp, now I'm crying, so a big thanks to Kylie Jenner for living a life I wish I could lead. If you ever need a babysitter though, you know who to call. It's the very least you could do for me.