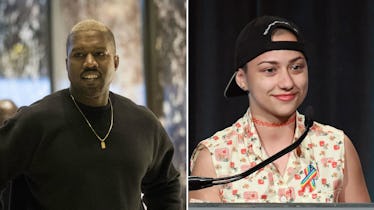 Kanye West Tried To Praise This Parkland Student & Her Response Was Perfect
Dimitrios Kambouris/Getty Images // Drew Angerer/Getty Images
Kanye West sure has been making a splash the past few days, to say the least. Even though his return to Twitter was met with roaring excitement from fans at first, his recent string of controversial tweets have people divided. However, things took a turn when West used the social media platform to praise a young activist from Marjory Stoneman Douglas High School, but Emma Gonzalez's reaction to Kanye West's tweet about her might hint that she's not buying it.
On April 28, West tweeted a photo of Parkland student and gun control activist Emma Gonzalez with a caption that said "my hero Emma Gonzalez." Following the tweet, West went on to post a selfie with the caption "inspired by Emma." For any high schooler, being called out as a hero by one of popular culture's biggest icons should be a momentous occasion, but Gonzalez definitely isn't the typical high schooler. In response to West's tweet about her, Gonzalez also took to Twitter to share a photo of James Shaw Jr., the man who took down an active shooter at a Tennessee Waffle House on April 22. In the tweet, Gonzalez used the exact same format as West by captioning the post "my hero James Shaw Jr.," complete with two spaces between the word "hero" and the name after it,
Mic drop.
It goes without saying that both Gonzalez and Shaw are clearly heroes to us all. Shaw made headlines in April after he successfully disarmed a man (while he was himself unarmed, might I add) who opened fire in a Nashville area Waffle House, killing four people. Shaw charged at the gunman and tackled him to the ground, leading the shooter to release his firearm. Despite saving countless other lives, and being labeled as a "hero" to the public, Shaw remained humble through it all.
In similar fashion, Gonzalez became known as a formidable activist through her fight for gun control legislation. After the tragic Feb. 14 shooting of her high school Marjory Stoneman Douglas, which killed 17 people, Gonzalez banded with her fellow classmates to fight for stricter gun laws and helped organize the March For Our Lives event on March 24.
There could be a few reasons why Gonzalez dedicated her post to James Shaw Jr., but my guess is that it has something to do with Kanye West's recent tweets about supporting Donald Trump. On April 25, West took Twitter for an absolute ride through a series of tweets defending and supporting the current president.
"You don't have to agree with trump but the mob can't make me not love him. We are both dragon energy. He is my brother," West tweeted. "I love everyone. I don't agree with everything anyone does. That's what makes us individuals. And we have the right to independent thought."
West did go on to admit that he "doesn't agree with everything Trump does," but that hasn't stopped fans from being completely divided on the issue.
It's no secret that Donald Trump isn't leading the fight on stricter gun control legislation, which might be a big reason why Gonzalez isn't super excited about West's tweet. Following the school shooting at Marjory Stoneman Douglas, Trump tweeted the classic "thoughts and prayers" response that led students, teachers, and gun control activists to demand change from Congress. However, instead of change in legislation, Trump continued to stir controversy when he brought up a plan to arm teachers with firearms to prevent school shootings. This is definitely not the change Parkland students were fighting for, and even though the president might have recently changed his tune slightly by showing support for stricter background checks while purchasing guns in February, not much has been done on the matter thus far.
Even though Congress might not be making as many steps to fight for stricter gun laws, that hasn't stopped Gonzalez and Shaw from truly inspiring a nation to fight for what you believe in.
Here's to celebrating true heroes.