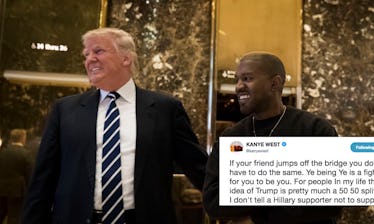 Kanye West Tweeted About Donald Trump & It's A Lot To Take In
Drew Angerer/Getty Images News/Getty Images
There's been a lot happening on Twitter ever since Kanye West rejoined the platform this month. One of the most intriguing aspects has been West's hints about his political leanings, which reignited a collective curiosity about if Kanye West supports Donald Trump. West's more recent tweets have mentioned more conservative ways of thinking, including thoughts about free speech, which have prompted praise from prominent right-wing figures who believe him to now be with them.
Seemingly in response to the questions about his political leanings, West tweeted a few messages on Wednesday, April 25 about President Donald Trump in particular.
"You don't have to agree with trump but the mob can't make me not love him. We are both dragon energy. He is my brother," West tweeted. "I love everyone. I don't agree with everything anyone does. That's what makes us individuals. And we have the right to independent thought."
He went on to indicate that you don't have to follow a crowd, explaining, "For people In my life the idea of Trump is pretty much a 50 50 split but I don't tell a Hillary supporter not to support Hillary ... I love Hillary too." West added that he loves "when people have their own ideas" and that, "I'm not even political. I'm not a democrat or a republican."
West then tweeted about how "no race religion region or political party can argue with the power of love." You can see the full Wednesday tweetstorm here:
At this point, it's pretty unequivocally clear that, regardless of politics, West likes Trump. Sorry to burst your ignorance-is-bliss bubble here, but like, the man straight-up said it. Not to mention, this is not the first time that West has expressed admiration for Trump.
At a concert in November 2016, after the presidential election, West said that he would have voted for Trump, although, he said, he did not vote at all. He explained that there were "a lot of things I actually liked about Trump's campaign," including that "his approach was f*cking genius — because it worked." A month later, in December 2016, West met with the president-elect at Trump Tower in a closed-door meeting.
"I wanted to meet with Trump today to discuss multicultural issues," West said in tweets after the meeting. "These issues included bullying, supporting teachers, modernizing curriculums, and violence in Chicago ... I feel it is important to have a direct line of communication with our future President if we truly want change."
Wednesday's tweets about Trump, which was retweeted by Donald Trump Jr., got a lot of... attention.
West's apparent support for Trump, at least as a person, has gotten a lot of criticism, considering Trump's ideals, policies, and language. Throughout the election, Trump's speeches referred to racist, xenophobic, and anti-Semitic arguments, and his rise in politics was correlated to a rise in hate crimes. Throughout his public life, he has made sexist remarks and has been accused of sexual misconduct by over a dozen women (the White House has denied those allegations). In office, Trump's policies have either harmed or attempted to harm the livelihoods of immigrants, Dreamers, refugees, and women. Following a white supremacist rally in Charlottesville, Virginia last August that left one protesting woman dead, Trump did not condemn the organizers, instead saying that both the rally-goers and the protesters were to blame for violence.
Considering these factors, as West is claiming to be supporting love for all, this support for Trump is certainly getting looks. This is also something West has previously addressed.
"That don't mean that I don't think that black lives matter," West said during that November 2016 concert. "That don't mean I don't believe in women's rights."
On Wednesday, he also added a caveat to his tweets. About an hour after the initial bunch came through, he tweeted, "My wife just called me and she wanted me to make this clear to everyone. I don't agree with everything Trump does. I don't agree 100% with anyone but myself."
For her own part, Kim Kardashian said blatantly during the 2016 presidential election that she supported Hillary Clinton. In a blog post, Kardashian wrote that she did some research on the candidates' stances on gun control and abortion access and "found that without a doubt, I stand with Hillary." She added that she was voting with her children in mind, and that she believed that "both candidates have the intention of making the country a safer and stronger place for every American, they just have different ideas about how we get there."
All things considered, I'm sure it's a fun day in the West-Kardashian household.